US stocks are crushing it on the global stage, with the S&P 500 Index clearly outperforming rival benchmarks in Asia and Europe during the third quarter.
Here's the not-so-good news: US equities are now extremely pricey on an international basis.
The S&P 500 went into overdrive during the third quarter, advancing 7.2%. That's the best performance since the end of 2013 as investors bet the US economy is in far better shape than its rich-world peers.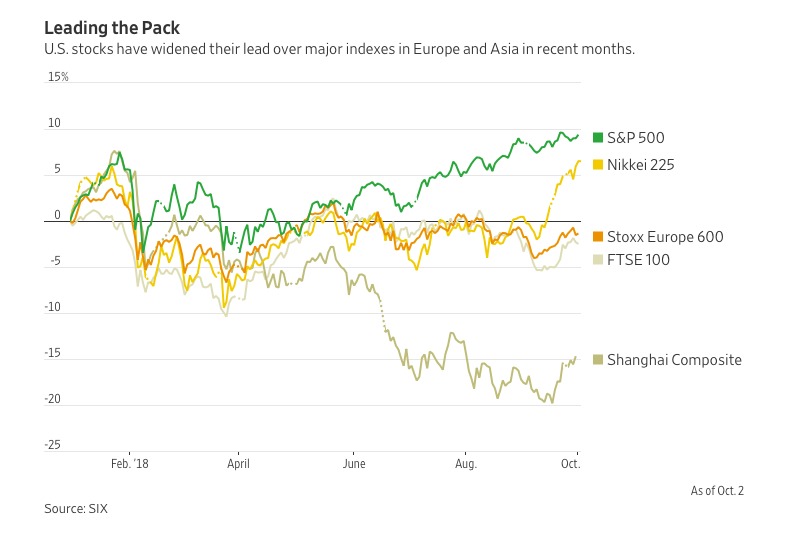 Widening Gap
Yet as the Wall Street Journal points out, there's a hitch:
"On a price/earnings basis, U.S. stocks are trading at a 12% premium to an MSCI index of 22 developed markets and 24 emerging markets. That is the biggest gap since 2009, according to Bank of America Merrill Lynch."


Market Skeptics
Aside from the premium issue, market skeptics are also worried about the flattening of the yield curve. The spread between short-term rates and long-term rates is narrowing.
A flat yield curve often expresses investor pessimism about the future.
An inverted yield curve, in which long-term rates dip lower than short-term rates, has been deadly accurate in predicting economic downturns.
Tech Stumbles
Another possible worry, in my opinion, is the poor performance of technology stocks during the third quarter, despite the news that both Amazon (AMZN) and Apple (AAPL) saw their market values eclipse the $1 trillion mark.
Tech stocks have been one of the biggest drivers of the current bull market which began in March of 2009, so the pull back may be cause for concern in my view.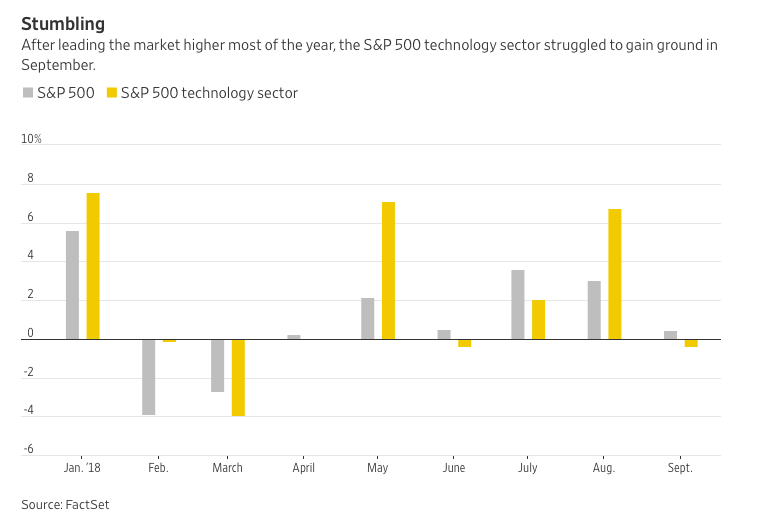 Economic Outlook
That said, the underlying foundation of the US economy looks strong, with the jobless rate a historic low and wage growth showing signs of life.  
The risk of a recession seems low, even when looking out over the next three years, according to Reuters citing data from Goldman Sachs.
The investment bank sees only a 36% chance of a US downturn during that period. As Goldman notes:
"Our model paints a more benign picture in which robust growth—coupled with receding concerns that financial conditions were unsustainably easy—have so far put a lid on US recession risk."
Takeaway
Add it all up, and the US stock market environment is a pretty good one in my view.
Yet with stocks looking on the expensive side, I think investors will need to be extra vigilant to find bargains in this current market.
Photo Credit: j van cise photos via Flickr Creative Commons
Disclosure: Certain of the information contained in this article is based upon forward-looking statements, information and opinions, including descriptions of anticipated market changes and expectations of future activity.  The author believes that such statements, information, and opinions are based upon reasonable estimates and assumptions. However, forward-looking statements, information and opinions are inherently uncertain and actual events or results may differ materially from those reflected in the forward-looking statements.  Therefore, undue reliance should not be placed on such forward-looking statements, information and opinions.