Everyone can agree on this much.
The Nasdaq Composite Index is within striking distance of blowing through its all-time closing high of 5,048 set back on March 10, 2000.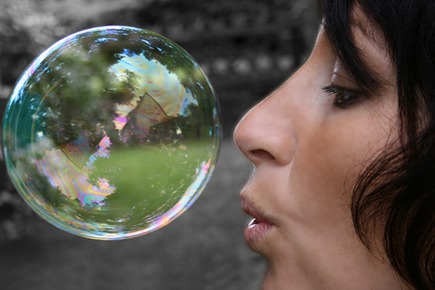 Bubbly
Beyond that, the consensus breaks down about whether tech stocks are heading for the same spectacular fall that took place 15 years ago when the dot.com bubble went poof.
Here's a breakdown of the arguments on both sides of the ledger.
Optimists
Tech bulls say that there are huge differences between 2000 and 2015.
For one thing, valuations haven't gone completely off the rails as they did back then.
The price-to-earnings ratio for the Nasdaq was 175 back at the bubble's bubbliest peak. Now, it is just under about 23.
Glam Stocks
Also, the tech glamour stocks of this era–Google (GOOG), Facebook (FB), Apple (AAPL) and Amazon (AMZN)–actually make money.
That's a world of difference from the fabled dot.com flameouts like Webvan and Pets.com.
David Kotok, chairman and chief investment officer of Cumberland Advisors, called the tech bubble back in the late-'90s.
He isn't worried this time around.
He recently noted on his company's website that "we are overweight the technology sector in our US exchange-traded fund (ETF) managed accounts."
He thinks the tech earnings surge is real and sustainable.
Skeptics
While skeptics concede valuations aren't at 2000 levels, there's definitely signs of froth among tech stocks.
Twitter (TWTR) is up more than 35% this year, while the popular biotech exchange-traded fund — the iShares Nasdaq Biotechnology ETF (IBB) — has advanced 20%.
If there's a canary in the coal mine, it might be Chinese Internet stocks.
The share price of Alibaba Group Holdings (BABA), which raised $25 billion in the world's biggest initial public offering last year, is down 28% from its recent high in November.
China Slump
Half of the 14 Chinese dot-coms that debuted in the U.S. last year, according to Bloomberg, are now trading below their initial sale prices.
Meanwhile, billionaire investor and Dallas Mavericks owner Mark Cuban thinks there is a tech bubble–and it could be worse than the last one.
In a recent blog post, he claimed there are all manner of angel investors, private equity funds and venture capitalists trying to get their money out of their start-up investments, but can't.
That suggests a liquidity squeeze, Cuban says.
"The only thing worse than a market with collapsing valuations is a market with no valuations and no liquidity," according to Cuban.
Takeaway
So far, tech investors aren't partying like it's 1999.
But there is reason for caution.
Start-up valuations are sky-high and a sell-off in Chinese net stocks is already underway.
The Nasdaq milestone is important and will get plenty of attention when it happens.
Yet when it comes to your portfolio, best to keep a cool head amid the celebration.
Photo Credit: Photo Clinique via Flickr Creative Commons