Apple's (AAPL) stock may be too cheap in my view. In fact, in my opinion, the company's shares may be worth up to 50 percent more than the current stock price of about $223 as of September 14.
I think that means the stock could rise to roughly $340 over the next two years.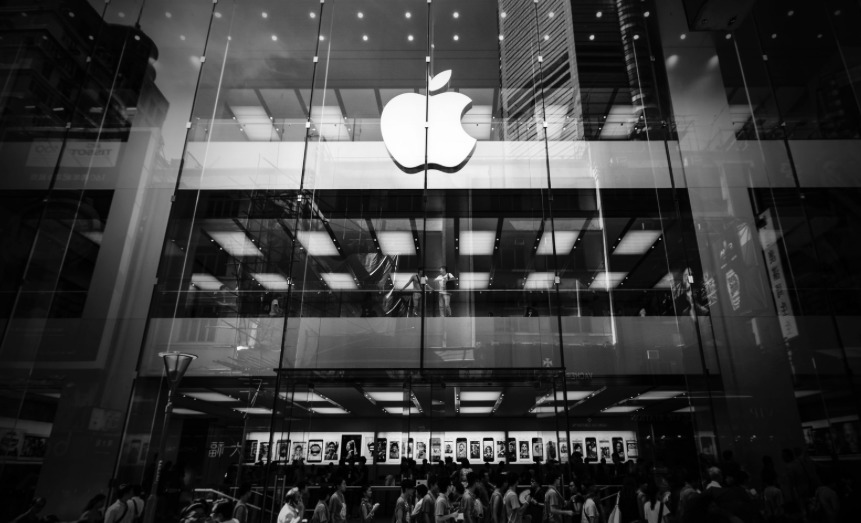 Much of the stock price appreciation, in my analysis, will hinge on Apple's ability to transform from a hardware manufacturer to a services company.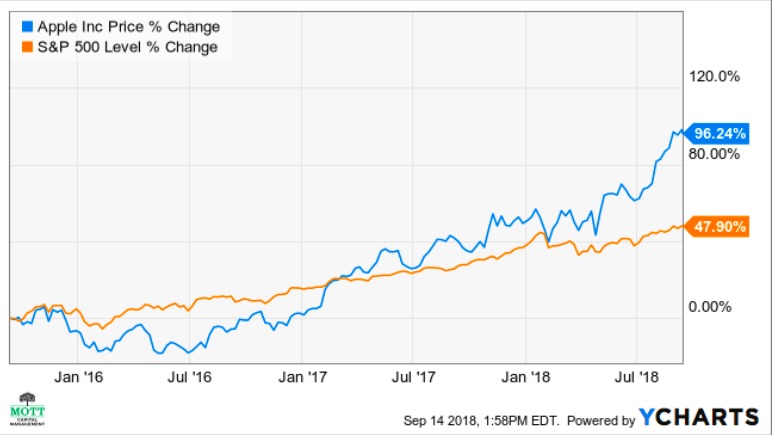 Higher Premium
Apple's stock currently trades at 15 times fiscal 2020 earnings estimates of $15.02, according to my research. But Apple's service revenue is growing at a blistering pace, according to the company's financial data.
In my view, investors are likely to value Apple's earnings more over time and be more willing to pay a higher premium.
That's because I believe service revenue will become a more significant part of total revenue.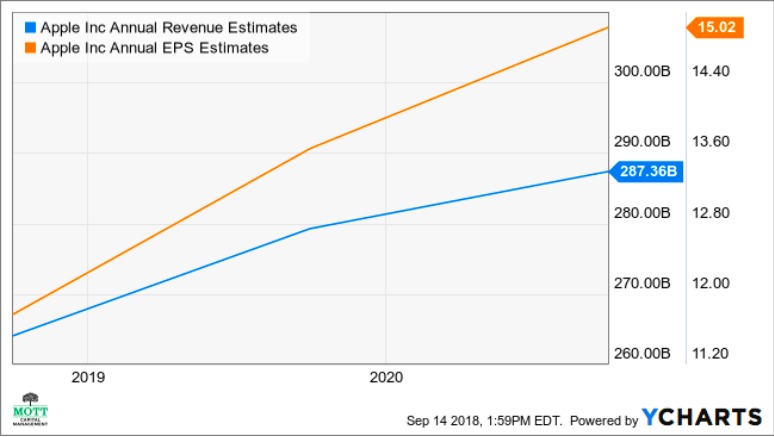 Service Business
Service revenue accounted for almost 18 percent of total revenue in the fiscal third-quarter of 2018, at $9.55 billion. That was Apple second most significant source of income behind the iPhone.
The iPhone accounted for 56 percent of Apple's total revenue of $53.27 billion in the quarter.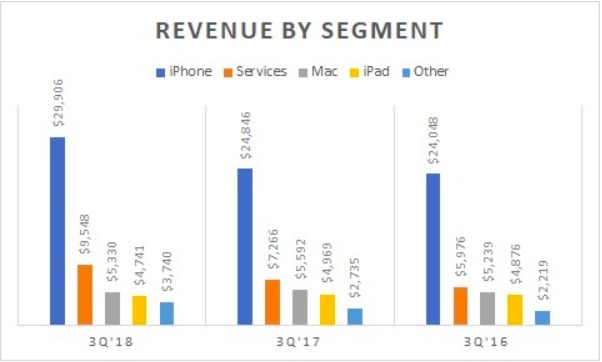 Linear Path
Service revenue has risen by almost 60 percent from the third-quarter of 2016 to the third-quarter of 2018. It has also grown on a linear path, avoiding the cyclical nature of iPhone sales.
In my opinion, total revenue may see a benefit of greater service revenue too, also becoming more linear as well.






iPhone Revenue
Service revenue is growing fast, and it is catching up to iPhone revenue.
In the third quarter of 2016, service revenue was almost $6 billion, or 25% of iPhone sales of $24 billion. By 2018 service revenue was about one-third of iPhone sales.
At its current pace, service revenue could rise to about $13 billion in the third-quarter of 2019 and represent almost 40 percent of iPhone sales, according to my analysis.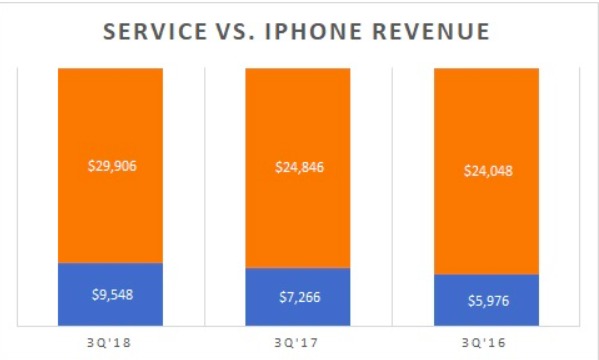 Transformation
Should service revenue continue to grow as modeled, Apple in my opinion may trade at an earnings multiple closer to that of some of the consumer discretionary, service-oriented technology, and payment processor companies such as Facebook (FB), Alphabet (GOOGL), Microsoft (MSFT), Visa (V), and Mastercard (MA).
In my view, that may mean the stock could trade at an earnings multiple closer to 20 times, and even as high as 25 times, fiscal 2020 estimates.

Using the midpoint of 22.5 times 2019 earnings estimates, I believe that Apple may be worth about $340, or 50 percent higher than the current stock price.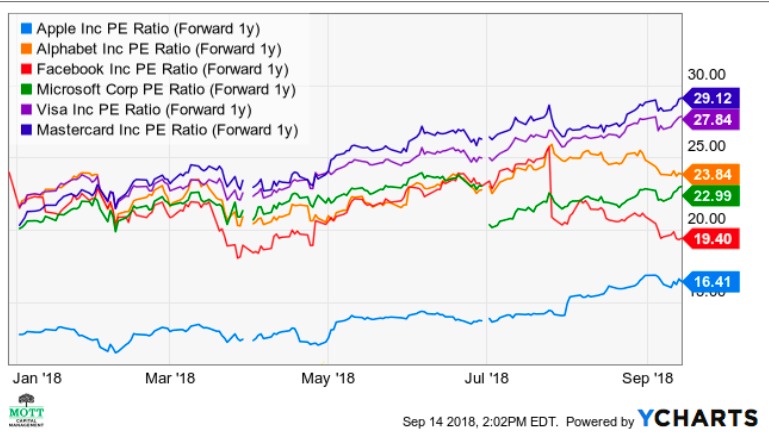 Takeaway
But for that to happen, in my view Apple will need to continue to see service revenue grow at, or faster, than its current pace.
It also assumes the company doesn't start losing iPhone users, or that other parts of its business don't go into a steep decline.
In my opinion, if Apple can continue to deliver stable iPhone sales over the next couple of years, and continue to ramp-up its services business, the stock is likely to continue to rise.
Photo Credit: allenhimself via Flick Creative Commons
Disclosure: Certain of the information contained in this article is based upon forward-looking statements, information and opinions, including descriptions of anticipated market changes and expectations of future activity.  The author believes that such statements, information, and opinions are based upon reasonable estimates and assumptions. However, forward-looking statements, information and opinions are inherently uncertain and actual events or results may differ materially from those reflected in the forward-looking statements.  Therefore, undue reliance should not be placed on such forward-looking statements, information and opinions.