Facebook (FB), Amazon (AMZN), Netflix (NFLX) and Google parent Alphabet (GOOGL) have had a standout 2017, powering the overall market's advance.
In my opinion, that strength can continue into 2018 as earnings and valuations continue to support the rise of these so-called FANG stocks, or FAANG if you include Apple (AAPL).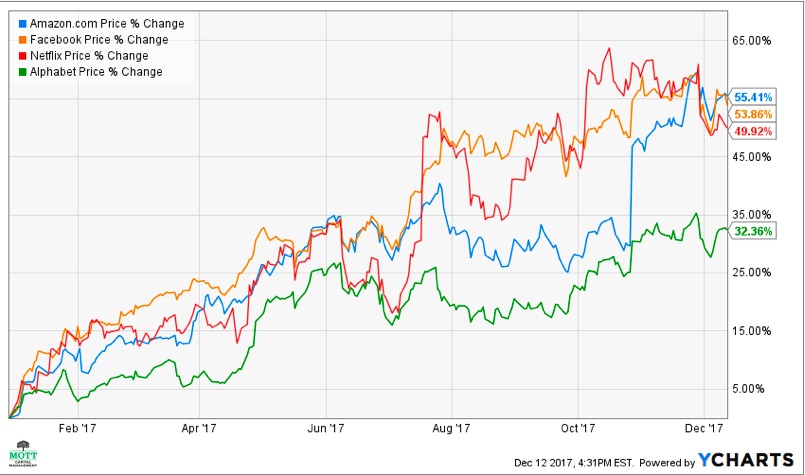 Here's a prediction: In my opinion, these tech giants will lead in 2018 as well.
Valuation Argument
Valuations for Alphabet and Facebook are trading at multiples in the low 20s based on 2019 estimates.
Netflix, meanwhile, is expected to grow at nearly 42 percent. Based on earnings estimates for 2019 of $3.90, the stock trades at about 47 times estimates.
Even Amazon, focusing on revenue, will be trading at roughly two times 2019 revenue estimates, for a company that is expected to grow revenue by nearly 17 percent to $275 billion.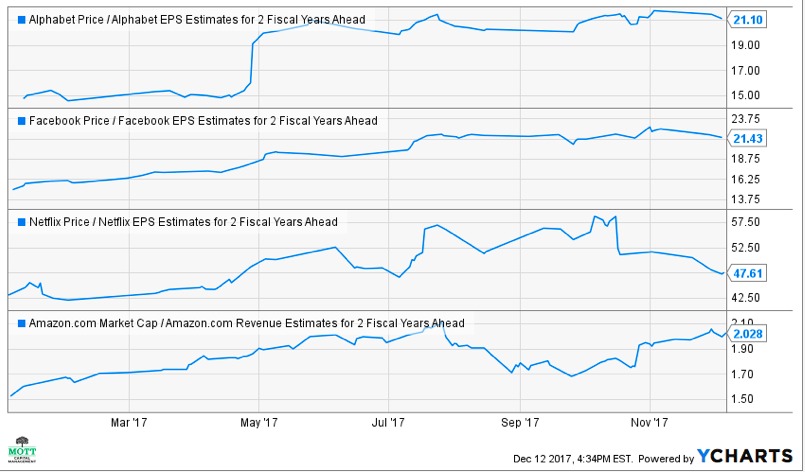 Takeaway
Even though many of these companies have had a strong 2017, they can continue to perform well in 2018.
In my view, that's because they have the earnings and revenue growth to help the support the rising valuations.
Photo Credit: magicatwork via Flickr Creative Commons