US stock investors have had plenty to cheer about this year, what with the S&P 500 Index and Dow Jones Industrial Average up 15% and 18.5%, respectively, through November 10.
Corporate earnings are on track to rise for a fifth straight quarter, according to Bloomberg. Real gross domestic product has topped the 3% market for two quarters in a row.
Yet if you're looking for something to worry about, check out what's happening in the market for high-yield or non-investment-grade debt, better known as the junk bond market.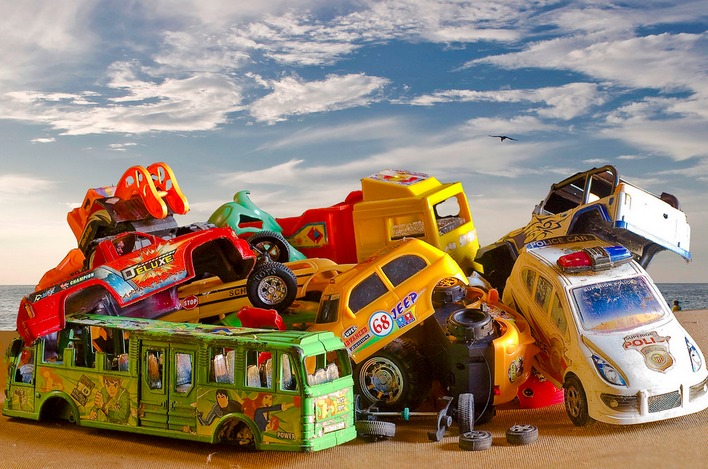 Risk Trade
Stock market analysts keep an eye on the junk bond market because it offers a good read on investors' appetite for risk.
Both markets tend to move in lock step and there's a high correlation between the SPDR Barclays High Yield ETF (JNK) and the S&P 500 Index.
What's caught everyone's attention are the rising yields for junk bonds. Last week, yields shot up to 3.79%, the highest mark in two months, according to the Wall Street Journal.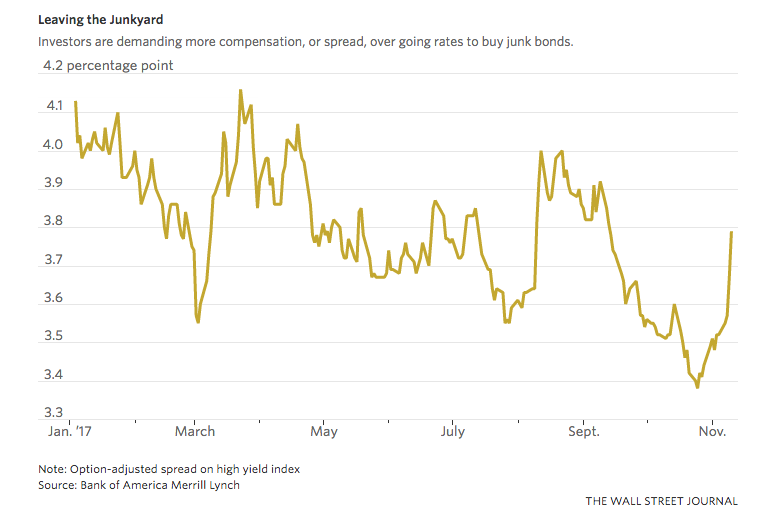 Deals Pulled
The precipitating cause seems to be that two low-rated issuers–NRG Energy (NRG) and Canyon Resource Holdings (CAY)–decided to shelve their bond deals last week.
Beyond that, Bank of America analysts have  pointed to other possible causes for the shift away from junk bonds, including the failure of a possible Sprint Corp (S) and T-Mobile (TMUS) deal, and the US Justice Department's challenges to the AT&T (T) and Time Warner (TWX) merger.
Others have noted the ongoing uncertainty about corporate rates and overhaul tax reform.
The SPDR Bloomberg Barclays High Yield ETF (JNK) has lost ground in recent weeks, though it is still up around 5.4% for the year through October 10.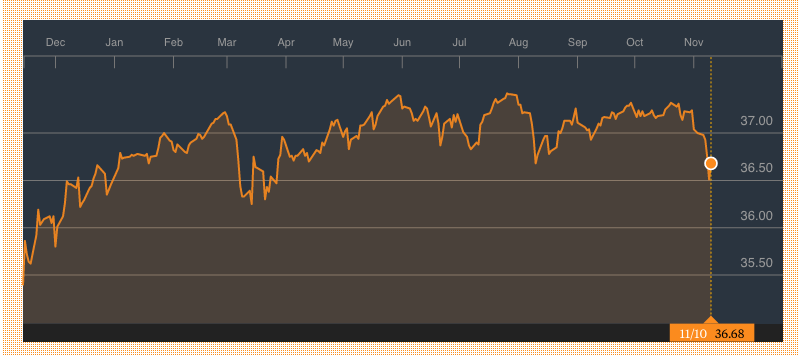 Takeaway
Sometimes the junk market can be the canary in the coal mine, a warning of a major market shift.
True, there are a lot of positives–corporate earnings and a solid economy–pushing stocks forward.
Yet, in my opinion, the developments in the junk bond market are well worth watching going forward.
Photo Credit: Hafiz Issadeen via Flickr Creative Commons