Biotech was easily the top performer as August drew to a close.
Gilead Sciences (GILD) fired up the biotech sector with its nearly $12 billion buyout of Kite Pharma (KITE) and progress with its immunotherapy cancer treatment in development.
You can see how the performance of the SPDR S&P Biotech ETF (XBI) outperformed the pack in the chart below.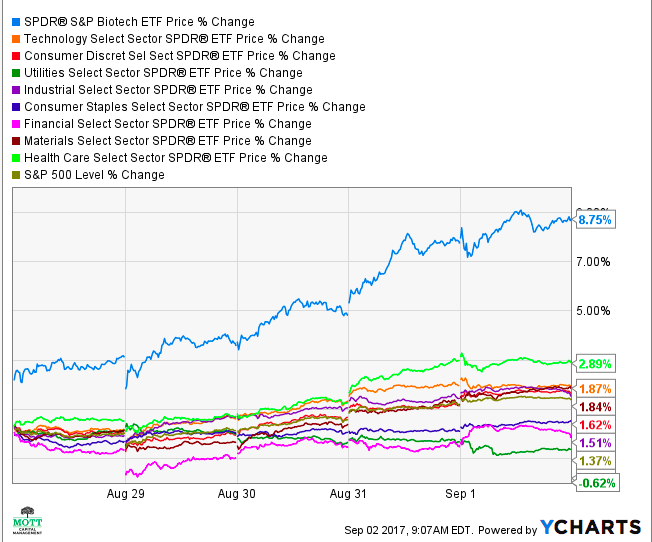 Bluebird Bio
In the next chart, we can see that a top performing stock in the biotech sector is Bluebird Bio (BLUE), a direct peer of Kite Pharma.
Gilead got a bump as well, but the big question for investors is whether new revenue from the Kite acquisition will offset the sales decline the company is experiencing with its Hep C class of drugs.
Gilead has said it doesn't expect the Kite acquisition to be accretive to earnings for three years.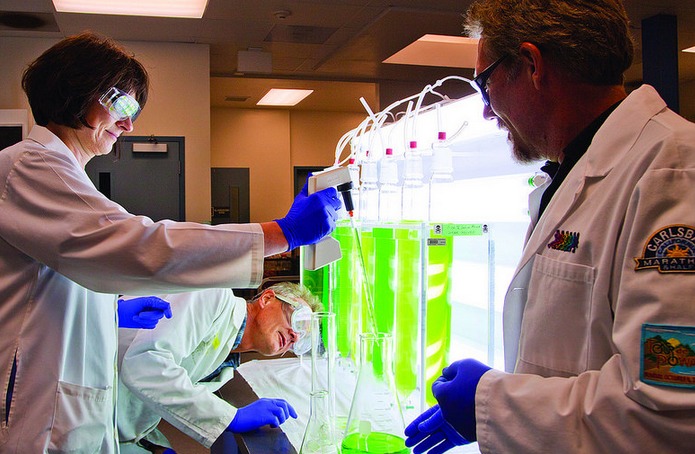 Investor Quandary
According to the Wall Street Journal, Kite's immunotherapy treatment is expected to produce revenue of only $1.7 billion worldwide by 2022.
It is worth thinking about how the market is viewing the recent acquisition and Gilead's surge.
Is it because the market perceives that the acquisition will spark Gilead's revenue growth?
Or do investors see Gilead as cheap, with its stock price trading at only 11 times 2018 earnings?
Overdone?
In my opinion, it would seem from the estimates that the acquisition is unlikely to add meaningful revenue or EPS in the near-term to warrant a sharp increase in the stocks price.
Regardless, I think the biotech sector is getting a much-needed spark, something that's been missing for well over two years now.
How long it will last is anyone's guess, but I have been increasingly more bullish on the sector for some time.
Photo Credit: MiraCosta Community College via Flickr Creative Commons