Luxury electric vehicle maker Tesla (TSLA) reached an important milestone as its market value eclipsed that of Ford Motor (F) and General Motor (GM) for the first time.
Tesla's market capitalization was $50.9 billion as of the close of trading on April 10, versus $44.7 billion for Ford. General Motor (GM) is valued at $50.8 billion.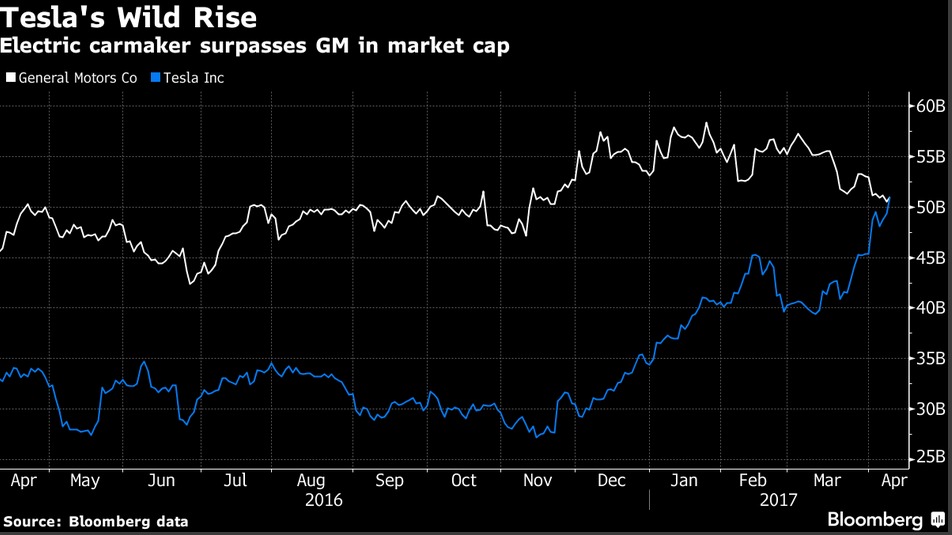 Seismic Shift
The changing of the guard has important symbolism. The race is on in Silicon Valley, where Tesla is based, to take on Detroit for leadership in the shape-shifting auto industry.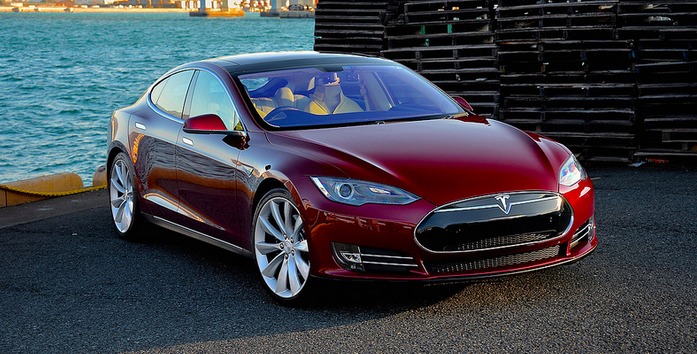 The move toward electric vehicles and driverless technologies is going to reorder the industry. Ford and GM are in that race, too, but Tesla and its founder Elon Musk seem to have captured the imagination of investors so far.
That said, Tesla has still yet to prove that it can be a mass market player, in my opinion.
Key Launch

Its Model S luxury sedan and the Model X S.U.V., both of which sell for $90,000 or more when options are added in, cater to the wealthy.
The real test will come this summer, when Tesla rolls out its mass-market Model 3 sedan, that the company says will go more than 215 miles on a charge and will start at $35,000.
iCar
Yet regardless of whether Tesla succeeds or not, the auto industry will continue to change in profound ways and have new players connected to the tech world.
Google (GOOGL) has had self-driving cars on the roads of Mountain View, Calif., since 2009.
Apple (APPL) is also investing heavily in self-driving technologies.
Investment Play

There's even an exchange-traded fund for investors looking for ways to bet on the cars of the future.
It's called The Global X Lithium & Battery Tech ETF(LIT) and invests in the full lithium cycle, from mining and refining the metal, aimed at battery production.
The fund is up 37% over the last year as of April 5 and Tesla is one of its holdings.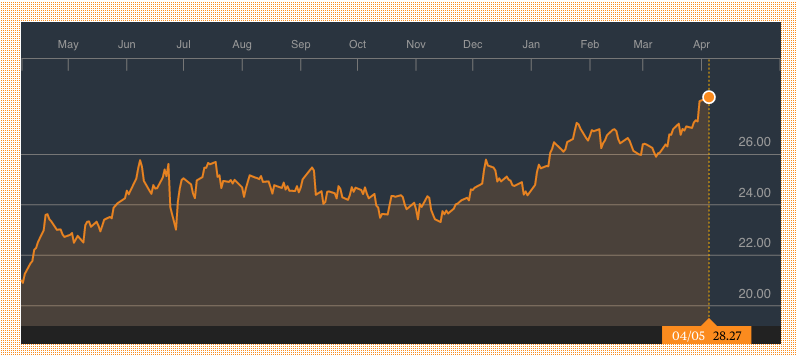 Takeaway

Technology firms have made inroads into Detroit's auto industry domain.
Tesla, Google and Apple are investing in new engine and driverless technologies that is hoped to change the auto industry in long-lasting ways, in my opinion.
That possibility is one reason Tesla is now worth $48 billion in the eyes of investors.
Photo Credit: raneko via Flickr Creative Commons