As 2017 kicks off, investors are getting plenty of bullish advice about can't-miss stock picks from brokerages and financial publications.
Bespoke Investment Group has pulled together an interesting analysis and chart contrasting the price of the 30 blue chip companies listed on the Dow Jones Industrial Average (INDU) and their consensus target price set by Wall Street analysts as of January 4.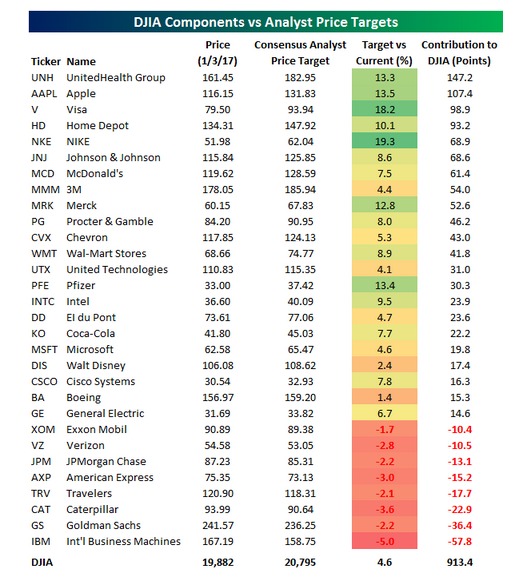 Incidentally, studies have long shown that brokerage analysts tend to be way too bullish about the market's direction year in and year out.
Roaring Apple
Analysts see double-digit gains for UnitedHealth (UNH), Apple (AAPL), Visa (V), Home Depot (HD) and NIKE (NKE).
However, overall the outlook for the Dow forecasts a modest 4.6% advance in 2017 based on current earnings estimates and price targets.
Market Pundits
Financial writers, meanwhile, didn't exactly do a brilliant job of picking stocks last year, as this astute post by TheUpshot notes.
The stocks-to-invest lists published in early 2016 by major business news operations such Barron's, Forbes and CNBC failed to match last year's 12.5% performance of Vanguard's Total Stock index fund.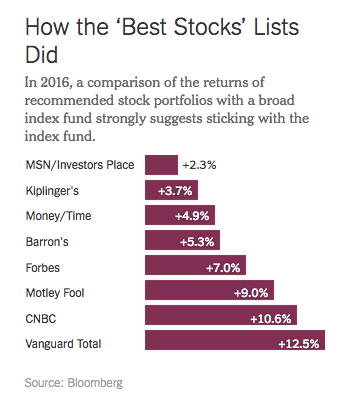 Takeaway
Stock picking is an inexact science and not for every individual investor.
In 2016 at least, you would have been better off buying an index fund than trying your hand at stock picking or listening to the market sages.
Photo Credit: htmvalerio via Flickr Creative Commons