Here's a big disconnect: Even as the benchmark U.S. stock indexes test new record highs, American CEOs are increasingly despondent about earnings.
On February 13, the S&P 500 Index (SPX) set a new all-time record and the Dow Jones Industrial Average (INDU) broke through the 18,000 mark for the first time this year.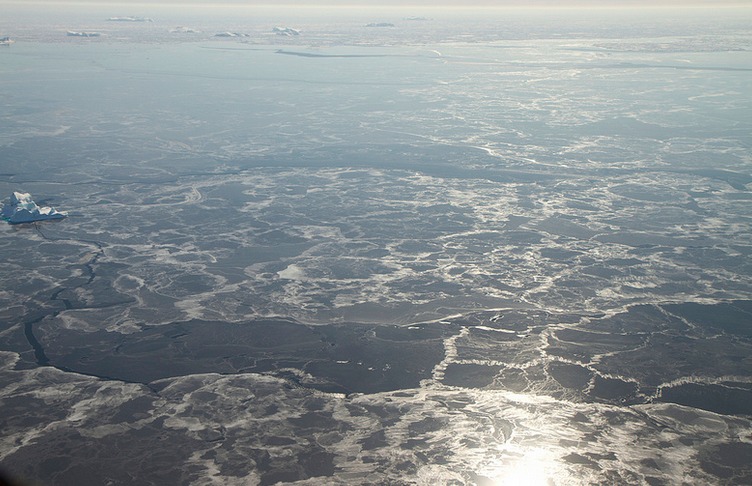 New Highs
The Nasdaq Composite Index (CCMP) is trading at a 15-year high.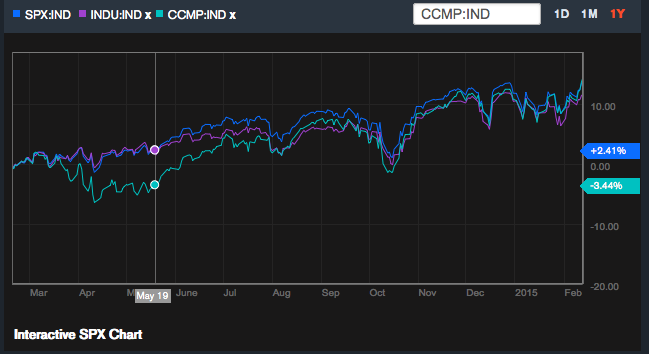 According to research by Bespoke Investment Group, U.S. executives sitting the corner office are the most downbeat about their earnings outlook than any time since the 2008 and 2009 financial crisis.
Bespoke calculated the spread between the percentage of companies raising guidance versus those lowering guidance. As of February 12, it was a negative 9.2 percentage points.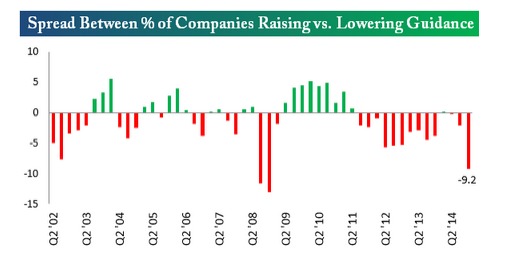 You'd have to look back to the dark days of the financial crisis to beat that, according to Bespoke's data.
Mighty Dollar
The steady appreciation of the US dollar versus the Euro and Yen is one big reason why CEOs are anxious about earnings in coming quarters.
The total currency hit may have lowered U.S. corporate revenue by as much as $12 billion in the fourth quarter of 2014, according to FireApps, a data analytics company that tracks currency losses.
Companies as diverse as Microsoft (MSFT), Google (GOOG), Pfizer (PFE), United Technologies (UTX), and Procter & Gamble (PG) have cited unfavorable currency swings as an issue for their earnings outlook.
Here are a sampling of sectors heavily reliant on overseas sales and thus vulnerable to the dollar's appreciation against major global currencies.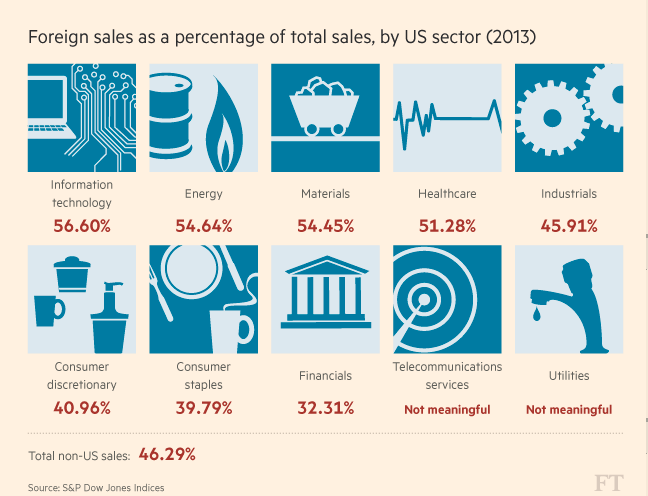 Takeaway
There's no question the bull market that took flight back in March of 2009 has surprised market bears in recent years by showing sustained staying power.
However, this year U.S. earnings growth is clearly  decelerating and a big chunk of the global economy (the Eurozone, China and Japan) is sputtering.
Lower oil prices are helping consumers but depressing capital spending in the energy sector.
The U.S. Federal Reserve, meanwhile, may be poised to raise interest rates later in the year.
Add it all up and that's not a great backdrop for a continued stock price rally.
Photo Credit: NASA Goddard Flight Center via Flickr Creative Commons