Most countries would find a quarterly growth rate of 7.3% a cause for a celebration.
Not China. Global investors shuddered when Beijing released its third quarter GDP number in late October. By Chinese standards, the number underwhelmed.
Consider that from 1980 to 2012, China averaged growth of about 10% annually. Now, it's on track to report its slowest full-year growth since 1990.
Sleeping dragon
Even worse, the International Monetary Fund predicts the Chinese economy will decline over the next five years, from about 7.4% this year to 6.3% by the end of the decade.
China's slowdown will be felt around the world. Here's what you need to know.
1) Commodities
China's high-speed economy used to lift all boats in the global economy. Now, the steep fall in the price of copper, metals, oil, coal and natural gas has hurt markets and companies in Asia, Europe and Latin America this year.
The IMF ran the numbers on the hit to GDP commodity-sensitive economies would take if China grows at an average 7.5% through the next decade instead of 10%.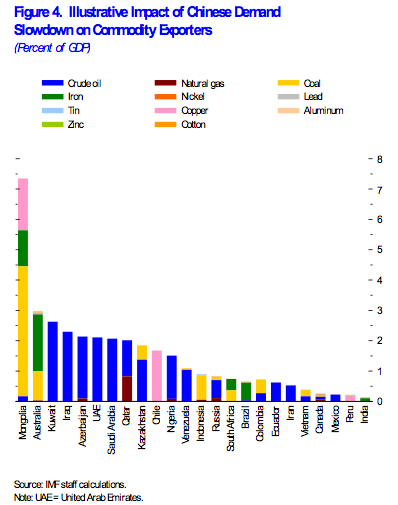 Mongolia's economy, for example, is forecast to be 7% smaller in 2025 if these assumptions hold up. Australia and the entire Gulf region would also take a hit in the 2% to 3% range.
2) Banks
China's central bank recently injected 700 billion yuan into its banking system, confirming worries about the bad loan levels tied to the country's overheated real estate market and infrastructure lending.
A banking crisis would be felt beyond China's borders.
Foreign banks have a $1 trillion-plus lending exposure to mainland companies and financial institutions. China faces a far bigger foreign lending claim than emerging economies like Brazil and Mexico.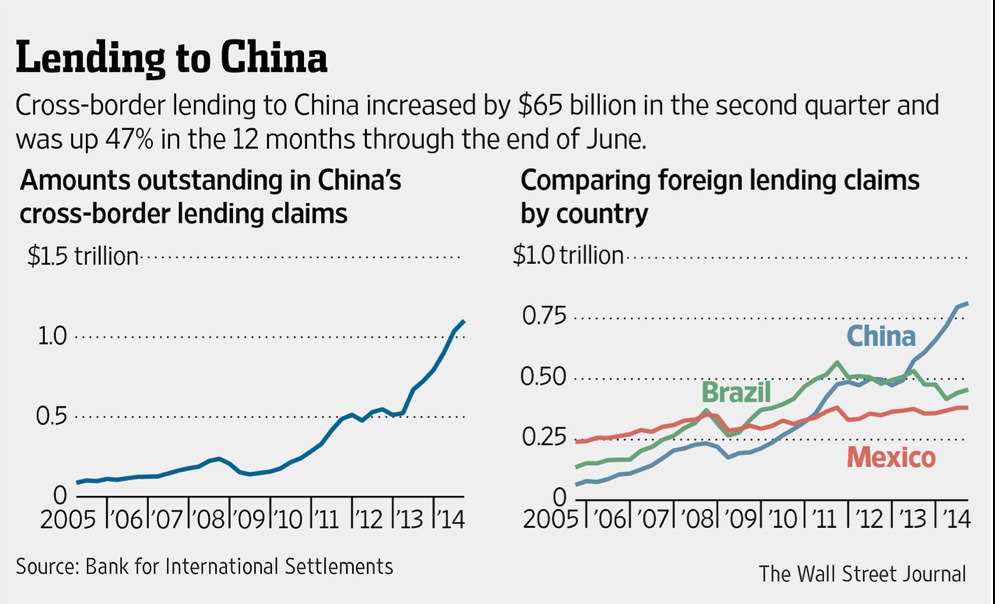 3) Autos
In September, Chinese vehicle sales advanced just 2.5% in September, the smallest gain in 19 months. Sales are are expected to finish the year up 7%, well below the double-digit pace of past years. It was 14% in 2013.
Right now, Japanese automakers such as Toyota and Nissan seem to be feeling the pain the most.
General Motors (GM) is opening up plants left and right and aims to double its sales from 2013 levels to 5 million units a year by 2018. The China slowdown will make that strategy more risky.
4) Political risk
In China, commerce and politics often mix. If China's slowdown deepens, foreign companies may be vulnerable to protectionist regulations that favor local players.
American tech companies are particularly vulnerable. Google (GOOG) pulled its servers out of China back in 2010 after tangling with the government over censorship.
Now Chinese antitrust authorities have targeted Microsoft (MSFT), while McDonald's (MCD) and Yum Brands(YUM) have faced allegations from government officials about food safety.
How long could the slowdown last in China?
A new working paper by Harvard economists Lant Pritchett and Larry Summers (a former Treasury Secretary) suggests China's fast-track days may be gone for good.
Looking at past high-fliers throughout economic history like Brazil (early 80s) and Japan (late-80s), there is a tendency for fast-growth economies to hit the wall and perform closer to the average growth of other countries.
If this reversion-to-the-mean argument holds up, China may never return back to the days of double-digit growth.
Continued Learning: Why Africa might be the ultimate contrarian investment right now
DISCLAIMER: The investments discussed are held in client accounts as of September 31, 2014. These investments may or may not be currently held in client accounts. Foreign investments may be volatile and involve additional risks including currency fluctuations, and political and economic uncertainties.The reader should not assume that any investments identified were or will be profitable or that any investment recommendations or investment decisions we make in the future will be profitable. Past performance is no guarantee of future results.