Automated online portfolio management (often called "robo-advisers" in the press) build and manage investment portfolios at rock-bottom costs using technology and computer algorithms.
And they're putting the pressure on traditional financial advisers to justify their assets under management fees with planning services and other human touches.
But what's the golden ideal for the individual investor?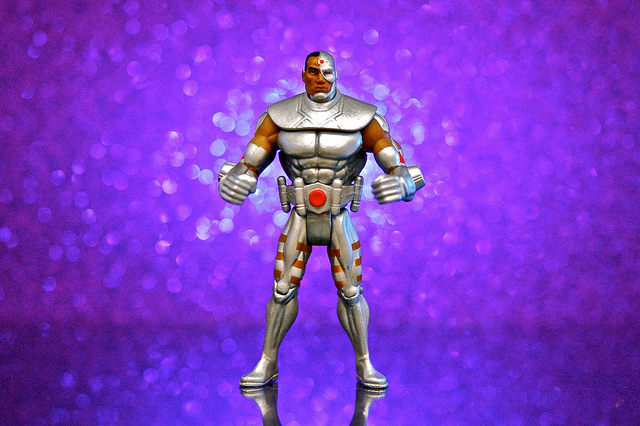 Technology, meet human
The pressure to streamline efficiency and fees is certainly a good thing for investors.
However, the future of investment advice might actually be services and platforms which combine the best features of man and machine, as some industry observers speculate.
Enter the cyborg money manager.
These man-meets-machine investing services are designed for tech-comfortable individuals who appreciate the convenience of online investing, but want an added human element available if they have questions.

Race to zero investing fees
The New York Times recently published an article on how online investment advisers are escalating the price war in the business of investment advice.
This is great news for investors because high fees can result in tens or hundreds of thousands of dollars lost over a lifetime.
These investing newcomers offer portfolios of index funds and ETFs that essentially run on autopilot. None of these companies charge more than about 0.5% of assets for these portfolios, according to this New York Times graphic.
There are several reasons why these upstarts charge less than established, big-name financial firms. They are typically backed by venture capital, and they use computer algorithms to build portfolios in place of humans, which is why they're sometimes called robo-advisors.
The fact is that diversified, "plain-vanilla" portfolios based on academic research and back-testing have become a commodity in recent years. The cost of managing these portfolios keeps getting closer to zero, and the rise of low-cost, index-tracking ETFs as the building blocks has only accelerated this trend.
The question here is how passive and fully algorithmic, all-ETF portfolios will weather in a more volatile stock market than today's — and how will those with all of their investable assets in such strategies fare long-term?
Cyborg advisers
So, the robo-advisers are chipping away at fees on the investment management side. But what happens when individuals need personal financial advice, active investing strategies, or planning services?
"Being able to talk to a human being face to face still matters to many people," writes Rob Leiber in the NYT article. While some online investment start-ups did start with "a rather one-note proposition"— a portfolio of low-cost investments that runs itself — they have started to add more personalized features, he added.
Robo-advisers have had success with specific investor types, such as younger individuals who prefer using technology, and investors who want to "set it and forget it" with passively managed portfolios that track the market, rather than attempt to outperform it. And they don't place a high priority on the human touch.
However, other online investment advisers are adding humans to the mix if clients have questions, and offering actively managed portfolios designed to beat the market.
The latter "tech-meets-human" services cater to individuals who want to be able to talk to a financial professional if they need help, and who also want a broad choice of investment options on the menu, including passive and active strategies — in one account.
Best of both worlds?
The bottom line is that better technology has allowed some online advisers to deliver basic investment portfolios at very low cost. However, investors suffer from common behavioral mistakes they tend to make over and over again, such as giving in to fear and selling at the worst possible time.
Therefore, many investors would benefit from talking to a live financial professional when they're choosing investments that are suitable for their goals and risk tolerance, or when they're tempted to abandon the long-term plan.
So, the next big trend in investment advice could likely be services which combine the strengths of automated technology with the wisdom and experience of human financial advisers. If the Terminator had a financial advisor cousin, he might be the next guy to watch on the personal finance scene.
"Cyborg" advisers enable both technology and humans to handle the tasks they do best.
Continue learning: Investing for less than the cost of a latte a month
—
Photo credit: JD Hancock via Flickr Creative Commons