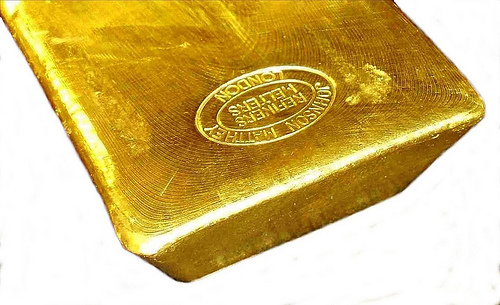 Gold prices are down more than 20% so far in 2013 after the latest slide and the precious metal is on track to snap its 12-year winning streak.
However, gold prices bounced Thursday after Janet Yellen, the nominee to replace Ben Bernanke as Federal Reserve chairman, said the Fed still has more work to do to help the economy after the financial crisis.
"The expectation was that the Fed would begin tapering its bond-buying stimulus programs in early 2014," said Gerry Sparrow, the president of Sparrow Capital Management who oversees the Hard and Soft Commodities portfolio on Covestor. "With Yellen's comments being taken as no change on this policy, I think gold has a chance to rally in the short-term. But over the longer term, I think gold prices will be more based on consumer and industrial demand, rather than inflation expectations."
Yellen, speaking before the Senate Banking Committee, added that although gold is seen as a safe haven, there isn't any economic model explaining its price fluctuations.
"In response to several questions following her prepared testimony, Yellen reiterated and strengthened her stance on the need for further accommodation given the unsatisfying level of growth in the economy at this point. Yellen also continued to champion the policies of the Fed currently in place including quantitative easing," said Sterne Agee chief economist, Lindsey Piegza, in a note.
"In response to questions regarding the consequences of unprecedented policies, Yellen clearly replied 'the benefits outweigh the costs.' Although Yellen was sympathetic to the pains suffered by the savers and older generations, noting that without a doubt low interest rates punish the savers at the expense of the spenders," Piegza added. "Still, Yellen was firm that in order to 'get back to business as usual' we need further accommodation today to ensure growth and stability tomorrow."
The dovish comments were music to the ears of gold bugs who have suffered lately. Yet it remains to be seen whether Thursday's rally is just a short-term bounce, and gold demand has been weak.
According to a report released Thursday by the World Gold Council, gold demand fell 21% in the third quarter from the year-ago period. Outflows from bullion-backed ETFs such as SPDR Gold Shares (GLD) were a main component of the decline in demand.
GLD is down 24% year to date and has experienced net outflows of $22.4 billion, the highest for any U.S.-listed ETF.
Photo Credit: BullionVault

DISCLAIMER: The investments discussed are held in client accounts as of October 31, 2013. These investments may or may not be currently held in client accounts. The reader should not assume that any investments identified were or will be profitable or that any investment recommendations or investment decisions we make in the future will be profitable. Past performance is no guarantee of future results.