Is the U.S. manufacturing revival the real deal? Optimists seem to be growing in number. John Koten at the Wall Street Journal has a very upbeat piece out today suggesting that all manner of digital technologies are transforming the way U.S. companies design and manufacture their products. Koten even goes so far as to suggest that a new industrial revolution is underway.
Why all the excitement? Koten and others have pointed to the following trends: the falling costs of electronic sensors, microprocessors and other components; the emergence of affordable cloud computing systems that give smaller companies access to Big Data applications; and new tools like 3D Printers that give engineers greater flexibility in design and the ability to quickly pump out prototypes.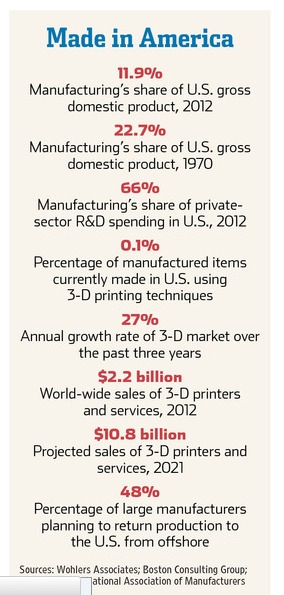 As McKinsey Managing Partner Dominic Barton told the Journal:
On the innovation front, we are likely to see advances in robotics, big data, materials and additive manufacturing (e.g., 3-D printing). Advances in vision systems, hydraulics and artificial intelligence are making robots far more dexterous and flexible. Instead of being fenced off and dedicated to the dirty, dangerous and difficult jobs, robots will be able to work alongside humans and may soon be able to take on tasks that were thought to be too delicate for machines or uneconomical to automate. That has very important implications for where products are built.
Observers like Ben Dickey, who manages the Covestor Growth Plus Income, make the case in his recent commentary that cheaper energy could also boost manufacturing productivity. The oil and gas shale revolution is lowering factory operating costs and is attracting investment from global manufacturing companies, according to Reuters. Dickey is very bullish about industrial stocks like Deere (DE) and Caterpillar (CAT).
Industrial technology companies that specialize in 3D Printers are all the rage. Stocks such as Stratasys (SSYS) 3D Systems (DDD), Arcam (AMAVF) and Proto-Labs (PRLB) have registed big gains this year. Check out the following chart.
But not everyone is buying the revival story. In a new report, Daniel Meckstroth, chief economist with the Manufacturers Alliance for Productivity and Innovation, notes that plant closings have outpaced plant openings every quarter for the last 13 years–and there is no evidence that is turning around despite the recent positive trends in manufacturing.
And Covestor's Barry Randall, who manages the Crabtree Technology portfolio, recently took a very skeptical look at the whole 3D Printing phenomenon. Randall's take:
There's no doubt that 3D printing (also known as stereolithography to old-timers like me) offers tangible benefits to manufacturers, shortening product development times and reducing waste. But there are two dangers on the horizon for investors: 1) the assumption that a consumer-oriented mass market will develop for these machines, and 2) the destructive cannibalization of these companies' profitable high end devices.
Photo Credit: danielfoster437