In recent years tech shares, led by Apple (AAPL), have been the rock stars of the stock market. Not in 2013 – despite the stellar performance of the overall market. Tech stocks are one of the worst performing sectors in the S&P 500 Index (SPX) so far this year. On top of that, technology stocks have fallen to their cheapest levels in seven years, according to this analysis by Bloomberg.
Apple's tumble from airy levels last year has received most of the attention. Skeptics point to a dearth of new products and managerial drift in the post-Jobs era under CEO Tim Cook. That's debatable, but there's no denying that Apple's profitability has taken a hit in recent quarters.
David Goldman of CNN Money published an interesting chart (see below) showing the declining average selling price of the iPad. Declining margins across an array of Apple's older products add up to a major profit problem for Cook. As Goldman explains:
For Apple, the number to watch is the gross profit margin — how much it keeps of every sale after accounting just for the costs of each product. Lower price points hurt the gross profit margin, as would higher supply costs. In the latest quarter, the gross profit margin fell to 37.5%, a whopping 10 points lower than a year ago.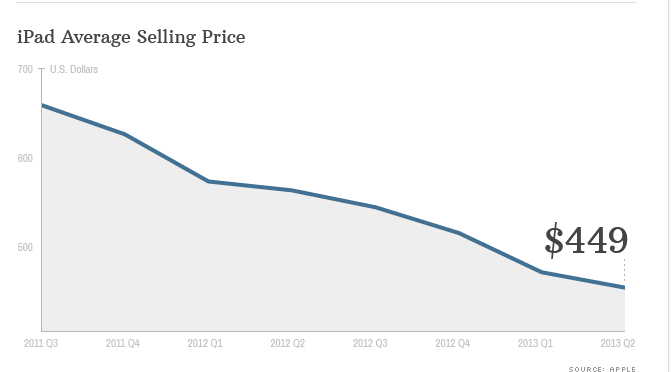 But the problems in the tech sector run far deeper than Apple. Personal computer sales are in a free-fall and that's hurt the share performance of companies likeDELL, Hewlett Packard (HPQ) and Microsoft (MSFT). Last week IBM missed forecasts for the first time since 2005, thanks to lower demand for computer hardware and service contracts. That sent Big Blue's shares down to an eight year-low.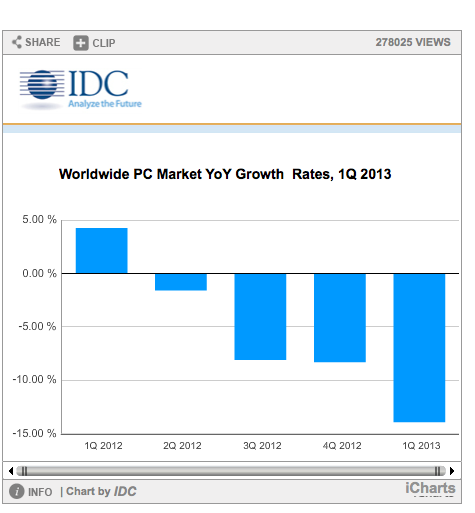 As IT research firm IDC recently pointed out:
Worldwide PC shipments totaled 76.3 million units in the first quarter of 2013 (1Q13), down -13.9% compared to the same quarter in 2012 and worse than the forecast decline of -7.7%, according to the International Data Corporation (IDC) Worldwide Quarterly PC Tracker. The extent of the year-on-year contraction marked the worst quarter since IDC began tracking the PC market quarterly in 1994. The results also marked the fourth consecutive quarter of year-on-year shipment declines.
Yet another possible drag on tech stocks is budget austerity in Washington. President Barack Obama's proposed budget would reduce spending on information technology by $2.5 billion by 2015, according to Bloomberg Industries. If so, that may be bad news for IBM, Cisco (CSCO) and Oracle (ORCL).
But while tech stocks as a whole have been struggling, some individual names and the active tech fund managers who hold them have done quite well. Barry Randall – who runs Covestor's Crabtree Technology portfolio – is up fully 12% year to date (as of April 29).