This chart shows Apple's (AAPL) net profit in fiscal 2012 compared to the combined profits of several big players from different industries.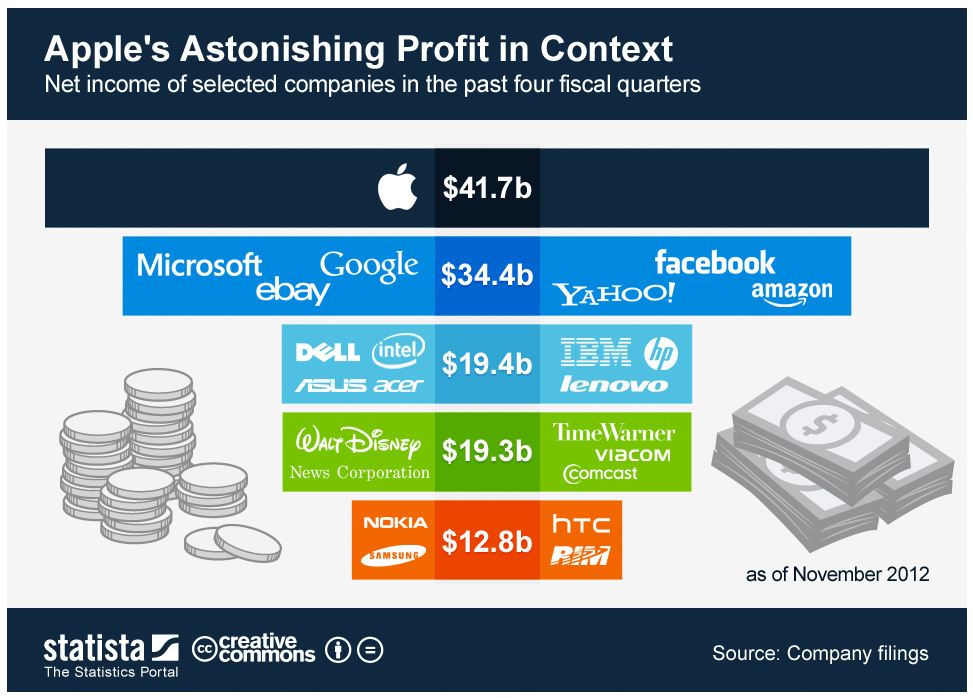 When Apple released its fourth quarter earnings in late October, the reaction from commentators, analysts and investors was largely negative. The company had missed earnings expectations, sold fewer iPads than expected and its margins had declined.
What went by nearly unnoticed however, was the fact that Apple had just wrapped up its fiscal year 2012 with a record profit of $41.7 billion on $156.5 billion revenue.
How huge these numbers really are becomes more evident when compared to the results of Apple's competition:
• From October 2011 through September 2012, the combined net profit of Microsoft (MSFT), Google (GOOG), eBay (EBAY), Yahoo (YHOO), Facebook (FB) and Amazon (AMZN) was $34.4 billion. Apple alone made $7 billion more.
• In the same period, Dell (DELL), Asus, Intel (INTC), Acer, IBM, Lenovo and HP (HPQ), i.e. virtually the entire PC industry, made $19.3 billion or less than half of Apple's profit.
Seeing these numbers, it is no surprise that, despite its recent dip, Apple is still the most valuable public company in the world. All its recent shortcomings notwithstanding, Apple's business remains incredibly profitable.
Source: Statista, company filings
The investments discussed are held in client accounts as of 11/25/12. These investments may or may not be currently held in client accounts. The reader should not assume that any investments identified were or will be profitable or that any investment recommendations or investment decisions we make in the future will be profitable.