by Michael Tarsala, CMT
A profit warning from any one company is rarely a danger sign for the entire economy and the stock market.
FedEx (FDX) may be the exception.
The global shipping and logistics company said its August quarter earnings will be below already lowered expectations. Given the scope of its role in the business world, that may signal trouble ahead.
FedEx ships just about anything and everything — industrial supplies, auto parts, stuff sold on EBay (EBAY) and Amazon (AMZN), and business documents of every sort. It's one of the leading shippers of international parcels globally. So when its shipments start to dry up, that is usually bad news for the economy.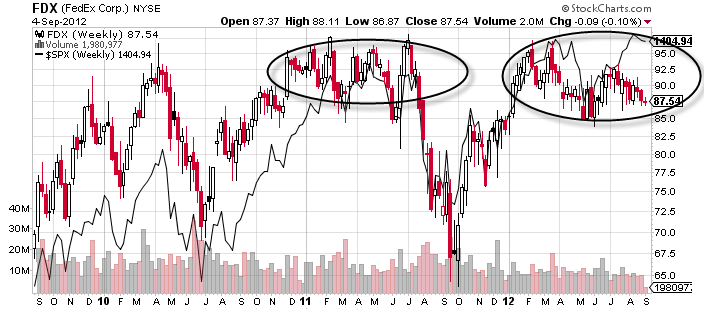 Source: StockCharts.com
The company's stock also bears watching as a bellwether for the S&P 500. It's hard to gauge the markets based on the moves of any one stock. Yet as you can see above, FedEx shares, in red and black, started moving sideways in early 2011 just before the S&P 500's gains also began to peter out. Then a false breakout for FedEx followed by a sharp breakdown last summer gave the heads up that the S&P 500's rally was in trouble.
This year, you'll notice the set of lower highs made by Fedex amid the most recent S&P 500 rally. That alone could be considered a cautionary sign; you want to see shares of companies that make goods and ship goods moving higher together.
What could be even worse is if Fedex was to slide to new year lows in the coming months. It would be very hard for anyone to have confidence in the S&P 500 moving much higher from here if that were to happen.
So should you study and understand your portfolio's total exposure to cyclical stocks with close ties to the economy following the Fedex news?
As the old FedEx ad campaign used to say, absolutely, positively.