by Michael Tarsala
Josh Brown, The Reformed Broker, has a cool chart today that lends even more support to the argument that extreme pessimism is a reason for stock market optimism:
The line in blue is the recommended stock weighting of stock strategists polled weekly by Bloomberg. As you can see, it's at 52%, not too far above recommended weightings when the stock market started rocketing higher off the bottom in March 2009.
Source: The Reformed Broker (via Bloomberg and Bespoke Investment Group)
Not all are so pessimistic, though. Some are zigging when others are zagging.
Check the latest from Liz Ann Sonders at Schwab, who thinks a summer rally could be in store.
And here is the latest from Wells Fargo's Stuart Freeman and Scott Wren:
Two things really stand out to me about what these guys are saying.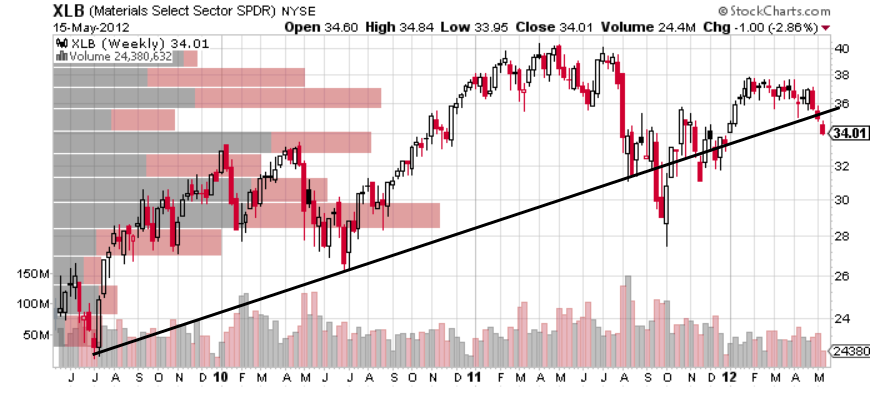 Source: Stockcharts.com
They have an overweight rating (5%) on the highly cyclical materials group — a group that most strategists hate right now.
Above is a proxy for that sector, the Materials Select Sector SPDR (XLB). You'll see no reason to suspect an immediate turnaround. However, the selloff is on fairly low volume. Also, there is strong volume support (represented by the pink bars at left) at around $33, about a point lower than where it's trading.
One other surprise is that Wells has a zero holding recommendation in utilities — the defensive group that the market now loves.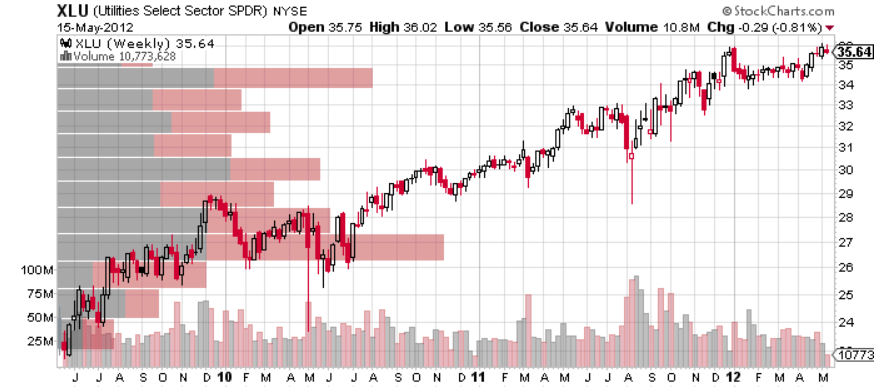 Source: Stockcharts.com
Above is the chart of the Utilities Select SPDR (XLU). There's nothing to suggest this uptrend is in jeopardy. To the contrary, there's reason to think it will break higher from recent consolidation.
What's possible, though is that there will be an eventual shift back to risk-on trading — perhaps this summer, as Sonders suggests.
So in time, the cyclical groups such as materials could again begin to outperform the defensive plays (such as utilities).
Contact us if you would like to discuss strategy, or about model managers who fit your style and are planning for the next big sector shifts.