by Michael Tarsala
Covestor's Bill DeShurko at 401 Advisor is in the process of getting more conservative with his investment model, in anticipation of a weaker "sell in May and go away" season for stocks.
He recently detailed part of his plan, which includes investments in lower-beta dividend names and dropping his high-yield bond exposure. He tends to save the high-beta bets for the seasonally strong months.
The seasonal effect he plans his investments around is more than just a wive's tale.
Eddy Elfenbein, the editor of Crossing Wall Street, crunched the numbers going back to 1896 (right around the time "Yes, Virginia" wordplay was first used, I'm aware).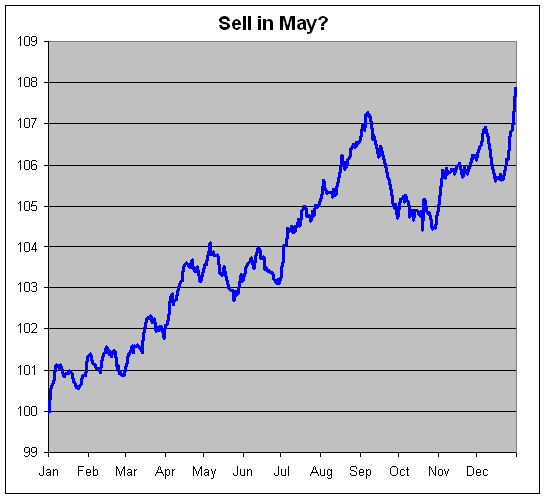 Source: CrossingWallStreet.com
The chart above shows the return of the average year.
It confirms that markets tend to peak in early May. And while returns are volatile thereafter, they are up only an average of 0.34% from May 6 to October 27.
The upshot: Exclude the "sell in May' period through the end of October, and the average return is 7.5% a year.
DeShurko contends that the seasonal trend is real. It's strong. And it can't be ignored.
And he, for one, is making plans accordingly.