by Michael Tarsala, CMT
Veteran advisor and market technician JC Parets makes a strong argument why trends in the coming months may favor stock ownership over bonds.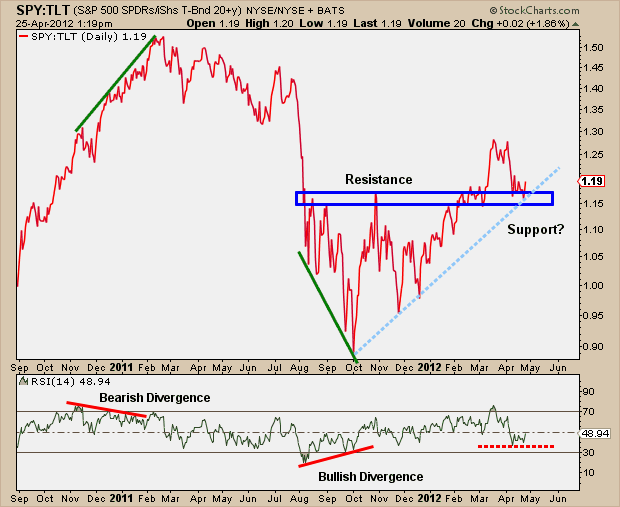 Source: allstartcharts.com
The chart above is the S&P 500 SPDR, the tradable ETF version of the S&P 500, relative to the iShares 20+Year Treasury Bond Fund.
It shows the following:
 Strong technical support for the spread relationship along a trendline dating to the October lows. It's one reason to believe that stocks may continue to strengthen relative to bonds, provided the trendline holds.
 A break higher from the March and April lows, and a support zone dating back to last summer.
Relative strenth that has leveled off at a low level, and is now climbing again, yet another suggestion of continued upside for stocks relative to bonds.
Even on its own, the picture for stocks appears to have improved this week.
There are two potentially positive developments: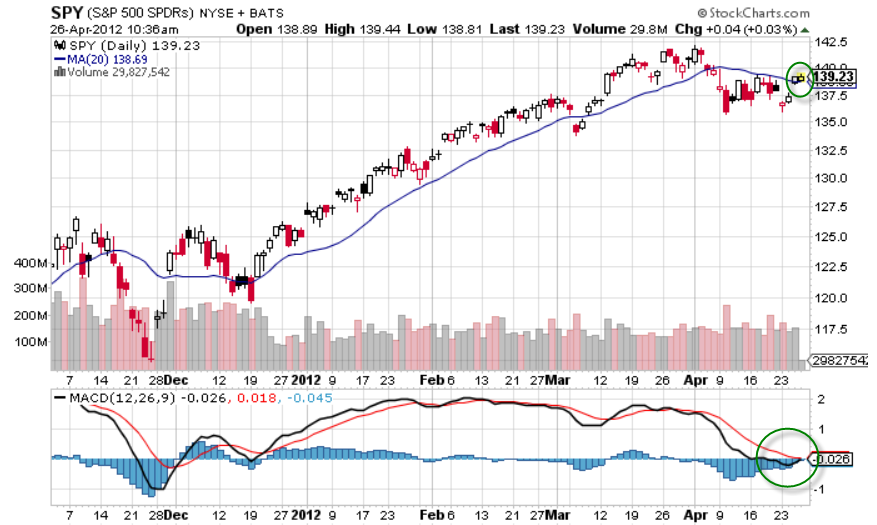 Moving average convergence/divergence, a timing tool used by markets technicians, is shown at the bottom of the chart. It is now seeing a positive crossover from a low level, similar to the one last seen in mid-December that kicked off the 2012 rally.
Stocks have now moved above the 20-day moving average, setting the stage for a potential challenge of year highs. Covestor Manager

Mike Arold

had been wary of the market's sidways movement and its inability to trade above the 20-day moving average. He has been using the 20-day as sort of bull/bear threshhold in his market analysis.
Taken together, the charts appear to make a more bullish case for stocks, and continued outperformance of equities vs. bond holdings.