The merger of Comcast (NASDAQ: CMCSA) and NBC, which is still 49 percent owned by General Electric (NYSE: GE), is now complete. While many post-merger questions abound, like whether or not NBC will now have an integrated social networking strategy, it's interesting to note that the price of both CMCSA and GE stock fell slightly the day before the merger was complete. GE had a closing price of $20.28 on January 27th, which fell to $20.20 on January 28th. CMCSA closed at $23.31 on January 27th, then fell to $22.84 on January 28th.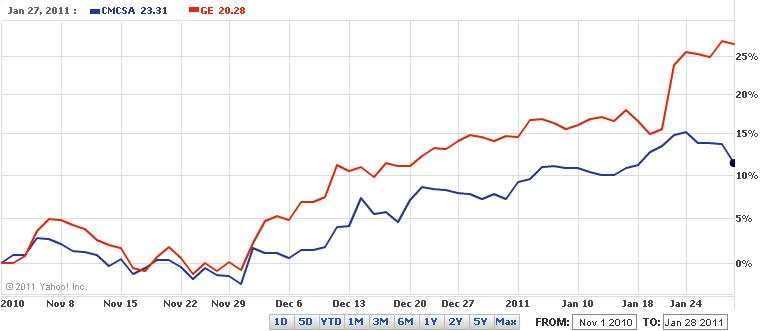 In other M&A news, Verizon Communications (NYSE: VZ) was down on Friday while Terremark Worldwide (NASDAQ: TMRK) was up after details were released about VZ's deal to buy TMRK. VZ fell from $36.49 on January 27th to $35.63 on January 28th. TMRK rose from $14.05 to $18.92.
We recently discussed Sara Lee's (NYSE: SLE) rejection of the JBS S.A. takeover deal. But the company's decision to split itself into two entities and issue a special dividend did little to help the stock's price. SLE fell from $19.64 on January 25th to $17.17 on January 28th.
Covestor models with exposure to these sectors include: Bottom-Up Analysis, Bottom-Up Analysis Agg, International Hedged Equity, and Anticitrade.
*Prices and charts courtesy of Yahoo Finance.