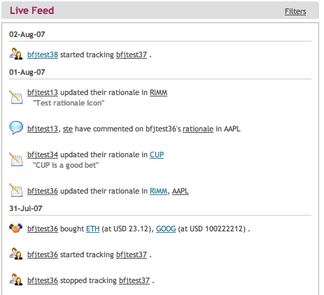 Today we put up the first of a number of Community features to be introduced over the next month or so – a 'live feed' of all activity
relevant to you.
The feature appears on the 'My Summary' page, and will
give you a better view of all of the activity relating to you and your
track list.
Currently the feed notifies you of:
– Trade alerts: of members you are tracking
– Rationales posted: and comments made in response
– Tracking updates: Members who start or stop tracking your portfolio
Keep an eye out on the blog over the next few days – we will keep
you informed as we build out the community features, and as we add to
the list of elements on the feed.