I've always been a little cautious when people say, "it's different this time." But the table below suggests the Fed is approaching 2022's inflation differently than other financial events in recent history.
We've faced some difficult economic periods since 1984. In each instance, the Fed's reaction was to ease monetary conditions or hit the pause button with its strategy. But in 2022, with inflation reaching new highs in the U.S. and showing few signs of slowing in other parts of the world, the Fed is tightening by raising interest rates.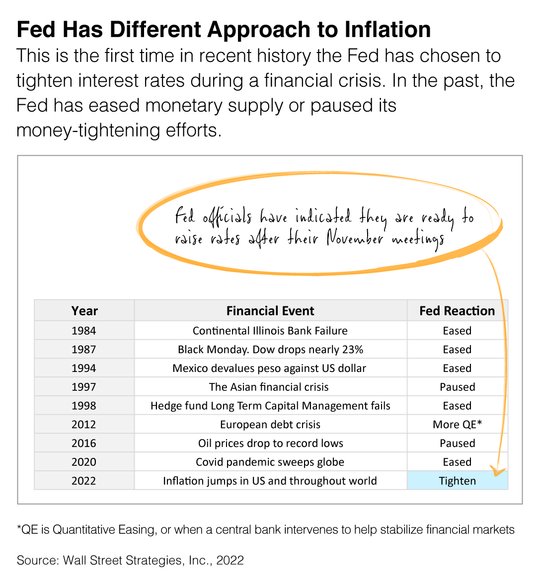 There's no doubt that the Fed is managing through a difficult time, and tightening appears to be the appropriate response. Fed Chair Powell knows that few financial events can be as devastating as high inflation over time – especially for those living on a fixed income.
I remain optimistic that the Fed has a strategy to tame inflation. In the meantime, if you have questions, please let me know. I'm always happy to hear from you.
PHOTO CREDIT: https://www.shutterstock.com/g/pabrady63
Via SHUTTERSTOCK
DISCLOSURE


Investing involves risk, including the possible loss of principal. Diversification does not ensure a profit nor guarantee against a loss.
This material represents an assessment of the market environment at a specific point in time and is not intended to be a forecast of future events, or a guarantee of future results. This information is not intended to be individual or personalized investment or tax advice and should not be used for trading purposes. Please consult a financial advisor or tax professional for more information regarding your investment and/or tax situation.