By Kevin Flanagan, Head of Fixed Income Strategy
At first glance, when you look at this blog post's title, you might think it's a bit confusing. However, even though U.S. Treasury (UST) yields have been making headlines with their year-to-date increases, in absolute terms, yield levels remain historically low. And, as a result, fixed income investors are still looking for income but in a manner that doesn't expose them to excessive rate risk.

Certainly, last week's CPI release unleashed another wave of bond market selling and, perhaps more importantly, created a more "hawkish" outlook for what the Fed may be contemplating on the rate hike front.

Indeed, as of this writing, the implied probability for Fed Funds Futures now sees six rate hikes this year, with odds increasing for a 50-basis-point (bp) move at the March FOMC meeting. St Louis Fed President Bullard, a 2022 FOMC voting member, went so far as to say he "favors a 100 bp increase by July 2."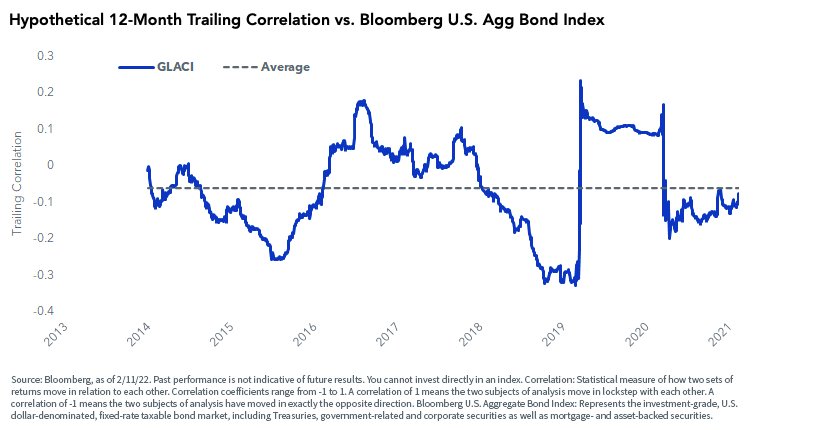 Search for Yield

So, what we do know is that rates are going up. But now comes the harder part about finding yield in a risk-controlled way. This is where alternative credit comes into play.

What is alternative credit? It is debt-based instruments whose yield and/or expected return is higher than investment-grade fixed income securities. It includes a range of securities across a broad universe of borrower segments, such as households, corporations and commercial real estate.

Three main segments of alternative credit are business development companies (BDCs), credit-centric closed-end funds (CEFs) and mortgage real estate investment trusts (REITs).

BDCs make loans to small and medium-sized companies and typically invest in first-lien, senior-secured floating rate loans that are issued to private corporations. CEFs are pooled investment vehicles that invest in high-yield bonds, broadly syndicated leveraged loans, collateralized loan obligations, residential and commercial mortgage-backed securities (MBS) and some private credit assets.

REITs provide financing for income-producing real estate by purchasing or originating mortgages/MBS for commercial and residential properties.

Due to the underlying nature of alternative credit, it can potentially carry elevated volatility, but it also has a higher yield profile. As of this writing, the SEC 30-day yield for HYIN came in at 8.41%. In addition, a portion of alternative credit is concentrated to exposures in floating rate notes, which helps to keep GLACI's correlation to interest rates to a minimum (see graph).

Conclusion

In this environment of looming Fed rate hikes, higher inflation and historically low interest rates, investors face a conundrum when looking for yield.

This post first appeared on February 16 on the WisdomTree blog

Photo Credit: Pictures of Money via Flickr Creative Commons

DISCLOSURE

There are risks associated with investing, including the possible loss of principal. The Fund invests in alternative credit sectors through investments in underlying closed-end investment companies ("CEFs"), including those that have elected to be regulated as business development companies ("BDCs") and real estate investment trusts ("REITs"). The value of a CEF can decrease due to movements in the overall financial markets. BDCs generally invest in less-mature private companies, which involve greater risk than well-established, publicly traded companies and are subject to high failure rates among the companies in which they invest.

By investing in REITs, the Fund is exposed to the risks of owning real estate, such as decreases in real estate values, overbuilding, increased competition and other risks related to local or general economic conditions. The Fund invests in the securities included in, or representative of, its Index regardless of their investment merit, and the Fund does not attempt to outperform its Index or take defensive positions in declining markets. Please read the Fund's prospectus for specific details regarding the Fund's risk profile.

Performance is historical and does not guarantee future results. Current performance may be lower or higher than quoted. Investment returns and the principal value of an investment will fluctuate so that an investor's shares, when redeemed, may be worth more or less than their original cost.

For the most recent standardized performance, 30-day SEC yield and month-end performance, click here.
WisdomTree shares are bought and sold at market price (not NAV) and are not individually redeemed from the Fund. Total returns are calculated using the daily 4:00 p.m. EST net asset value (NAV). Market price returns reflect the midpoint of the bid/ask spread as of the close of trading on the exchange where Fund shares are listed. Market price returns do not represent the returns you would receive if you traded shares at other times.