If you have any doubts about the growing importance of environmental, social and governance investing, perhaps you should think again.
The economic consequences of climate change, economic inequality and toxic corporate management are too big to ignore.
That's why trillions of dollars worth of assets continue to flow into ESG funds and investment vehicles, with Europe and the United States leading the way.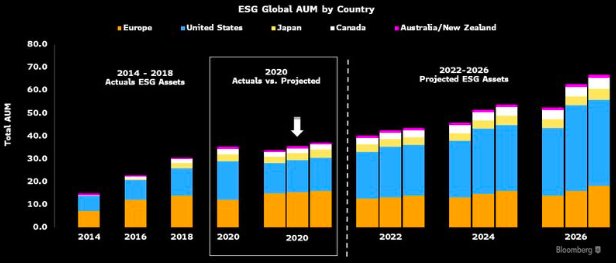 ESG assets under management are set to hit $50 trillion by 2025 from about $35 trillion, according to estimates from Bloomberg Intelligence.

Green Bonds

While the ESG money flows have been focused on the equity market, sustainable debt vehicles are also on the rise.

Green bond issuance topped $1.6 trillion in 2021, according to Bloomberg data.

Investors have reason to be concerned about how ESG trends affect their portfolios.

Climate change has been linked to extreme weather events this century. And for the US at least, they are proving expensive to respond to and clean up.

Last year the US experienced 20 severe natural disasters that inflicted damage costing more than $145 billion, according to the US National Oceanic and Atmospheric Administration (NOAA).

Photo Credit: Chris Jones via Flickr Creative Commons

Disclosure
This piece is provided as educational information only and is not intended to provide investment or other advice. This material is not to be construed as a recommendation or solicitation to buy or sell any security, financial product, instrument, or to participate in any particular trading strategy.