Small is the new big so far in 2021, with the Russell Microcap® Index, comprised of the smallest 1,000 stocks in the US small-cap Russell 2000® Index, up more than 14%, trailed by steadily lower January returns for the Russell 2000® Index (+5.0%), Russell Midcap® Index (-0.3%) and the US large-cap Russell 1000® Index (-0.8%).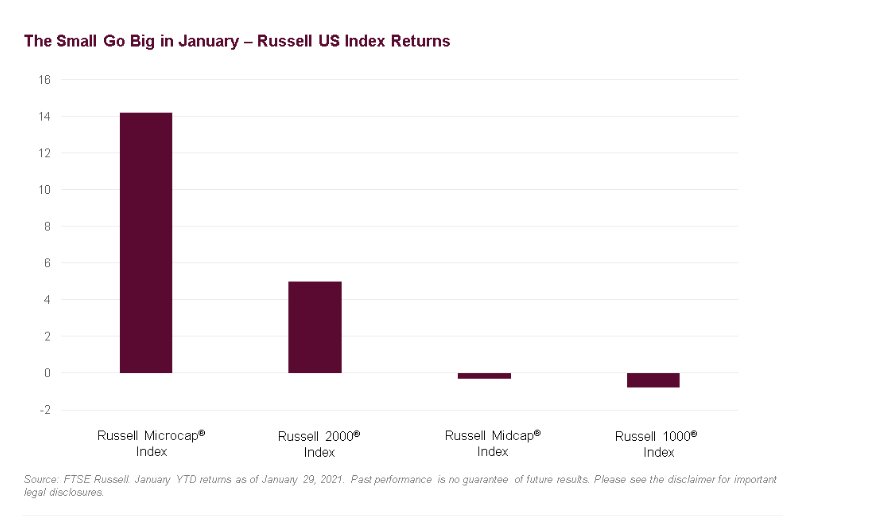 Catherine Yoshimoto, Director, Product Management, FTSE Russell:
"The Russell US Indexes are designed to provide comprehensive exposure to the US equity market and, due to their modular construction, are an excellent way for investors to gain accurate exposure to shifting market cap dynamics. From mega to micro-cap, it is important for investors to diversify across their market cap exposure and the Russell US Indexes provide an efficient vehicle to achieve that objective."

Photo Credit: Laura Wolf via Flickr Creative Commons

This article was first published on February 5 on the FTSE Russell blog.

© 2021 London Stock Exchange Group plc and its applicable group undertakings (the "LSE Group"). The LSE Group includes (1) FTSE International Limited ("FTSE"), (2) Frank Russell Company ("Russell"), (3) FTSE Global Debt Capital Markets Inc. and FTSE Global Debt Capital Markets Limited (together, "FTSE Canada"), (4) MTSNext Limited ("MTSNext"), (5) Mergent, Inc. ("Mergent"), (6) FTSE Fixed Income LLC ("FTSE FI"), (7) The Yield Book Inc ("YB") and (8) Beyond Ratings S.A.S. ("BR"). All rights reserved.
FTSE Russell® is a trading name of FTSE, Russell, FTSE Canada, MTSNext, Mergent, FTSE FI, YB and BR. "FTSE®", "Russell®", "FTSE Russell®", "MTS®", "FTSE4Good®", "ICB®", "Mergent®", "The Yield Book®", "Beyond Ratings®" and all other trademarks and service marks used herein (whether registered or unregistered) are trademarks and/or service marks owned or licensed by the applicable member of the LSE Group or their respective licensors and are owned, or used under licence, by FTSE, Russell, MTSNext, FTSE Canada, Mergent, FTSE FI, YB or BR. FTSE International Limited is authorised and regulated by the Financial Conduct Authority as a benchmark administrator.

The Russell Microcap Index measures the performance of the microcap segment of the U.S. equity market. The Russell 2000 Index is a small-cap stock market index of the smallest 2,000 stocks in the Russell 3000 Index. The Russell Midcap Index measures performance of the 800 smallest companies in the Russell 1000 Index. The Russell 1000 Index is a stock market index that tracks the highest-ranking 1,000 stocks in the Russell 3000 Index, which represent about 90% of the total market capitalisation of that index. Investors are unable to directly invest in an index.
All information is provided for information purposes only. All information and data contained in this publication is obtained by the LSE Group, from sources believed by it to be accurate and reliable. Because of the possibility of human and mechanical error as well as other factors, however, such information and data is provided "as is" without warranty of any kind. No member of the LSE Group nor their respective directors, officers, employees, partners or licensors make any claim, prediction, warranty or representation whatsoever, expressly or impliedly, either as to the accuracy, timeliness, completeness, merchantability of any information or of results to be obtained from the use of FTSE Russell products, including but not limited to indexes, data and analytics, or the fitness or suitability of the FTSE Russell products for any particular purpose to which they might be put. Any representation of historical data accessible through FTSE Russell products is provided for information purposes only and is not a reliable indicator of future performance.