Millennials, defined as those born roughly between 1980-2000, are about to see the oldest of this age group turn 40, with the youngest closing in on 20 years old.

Over the past few years, the Millennial generation has matured from primarily a cohort of cash-strapped students to one that makes up a majority of the US workforce and is a powerful consumer group.

And like a glacier carving out the side of a mountain, the 90 million-person strong generation is slowly, but surely making an indelible mark on the world's largest economy.
In the infographic below, we look at a Millennial's daily routine based on the latest facts and figures, showing the unique preferences and habits of this influential generation.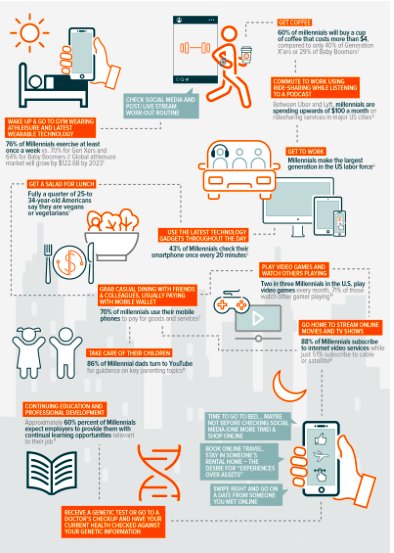 Photo Credit: Christof Timmermann via Flickr Creative Commons

FOOTNOTES


1. Global Web Index, "76% of Millennials Exercise At Least Once a Week," Aug 9, 2017 // TechNavio, "Global Athlesiure Market 2019-2023," 2019.
2. The Balance, "How Millennial Spending Habits Compare to Other Generations," Sep 2, 2019.
3. Business Insider, "Here's how much millennials spend on Uber and Lyft in major US cities every month," Jul 14, 2018.
4. Pew Research, "Millennials are the largest generation in the U.S. labor force," Apr 11, 2018.
5. KDM Engineering, "Smartphone Etiquette," Aug 7, 2018.
6. The Economist, "The Year of The Vegan," 2018.
7. PaymentsJournal, "U.S. Millennials Who Mobile Pay May Spend More Than Non-Users But Still Budget and Save," Jan 3, 2019.
8. Forbes, "More Americans Now Pay For Streaming Services Than Cable TV," Mar 20, 2019.
9. Think with Google, "Marketing to millennial parents? Here's how they're redefining parenting for their generation," Mar 2017.
10. Nielsen, "Game on: video games are a staple among millennials' media diets," Jun 6, 2019.
11. EdAssist, "Millennials Desperate for Financial Stability, in Search of Employer Support to Get There," 2019.