Here's something to keep an eye on: Investors may be losing that loving feeling toward stocks.
Some $60 billion in capital on a net basis flowed out of stock funds last quarter, the biggest migration in percentage terms since 2011, according to the Wall Street Journal, citing data by Morningstar.
At the same time, bond funds attracted $118 billion, a doubling of net inflows over the year-ago period, while money-market funds added $225 billion, according to the WSJ.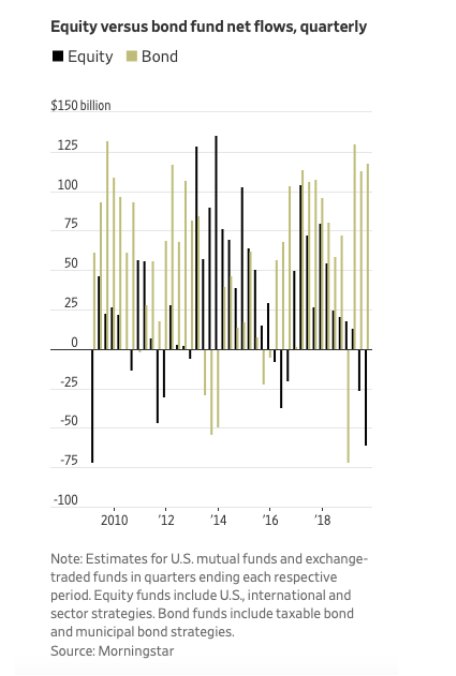 Recession Fears

While it's too early to call a big and permanent shift from stocks to bonds, the money redirect may be a sign that investors are worried about the economic outlook.

Recession fears are rising in the US, what with an impeachment drama in Washington, a Turkish military operation in Syria, and worrisome economic indicators weighing on investors.
For instance, one gauge of US manufacturing activity has hit a 10-year low and car sales are showing signs of weakness.
Market Breadth
Technical analysts have recently noted that the market breadth of the stock rally has narrowed, according to an analysis by the Wall Street Journal.

And as the third-quarter earnings season kicks off, analysts expect US corporate profits to decline by around 3%.

Corporate earnings growth has been weak in recent quarters and a long way off from the double-digit gains of 2018.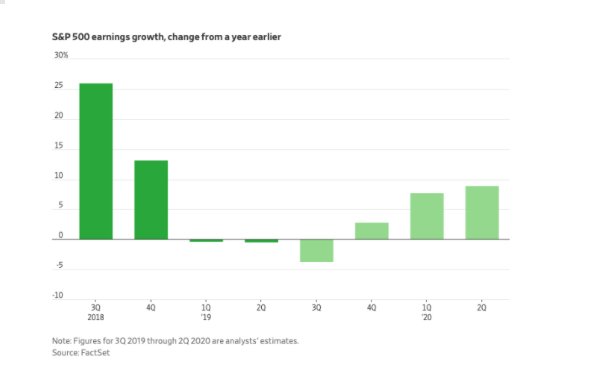 Takeaway

Market sentiment has also turned more negative given the US economic uncertainty and growing trade tensions with both China and Europe.

If there's a massive exodus of money out of stocks and into bonds and money market funds, the current historic bull market that started in March of 2009 may be challenged in my view.

Photo Credit: joiseyshowaa via Flickr Creative Commons
Disclosure: Certain of the information contained in this article is based upon forward-looking statements, information and opinions, including descriptions of anticipated market changes and expectations of future activity. Interactive Advisors believes that such statements, information, and opinions are based upon reasonable estimates and assumptions. However, forward-looking statements, information and opinions are inherently uncertain and actual events or results may differ materially from those reflected in the forward-looking statements. Therefore, undue reliance should not be placed on such forward-looking statements, information and opinions.