By Catherine Yoshimoto, director, product management, FTSE Russell
As we enter the second decade of a low interest rate environment, there's no question we can count the real estate equity sector among the beneficiaries of this era of yield scarcity.

This has been true for real estate equities around the globe, as investors have continued to seek them for their income-generating potential.

However, while investors' search for yield initially led them to real estate equities from developed countries, more recently we've seen a stronger rally in emerging markets.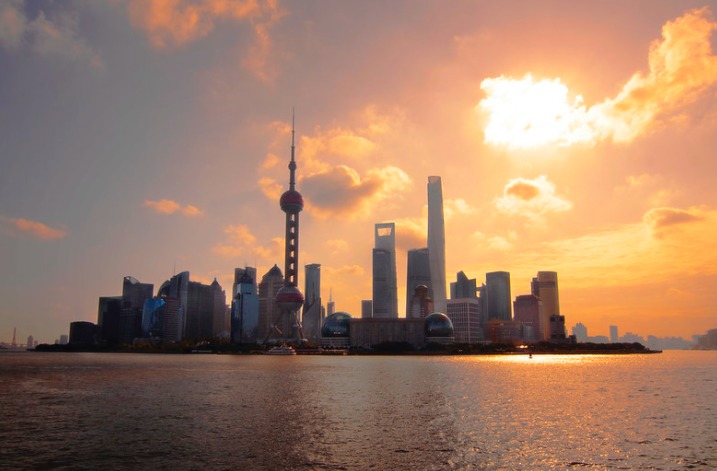 Global Picture

If we look back 10 years, global real estate equities began their upward trajectory shortly after the financial crisis set the low interest rate environment in motion.

As shown below, both the FTSE EPRA Nareit Developed Index and the FTSE EPRA Nareit Global Index have outperformed the FTSE Global All Cap Index for the 10 years ending March 2019.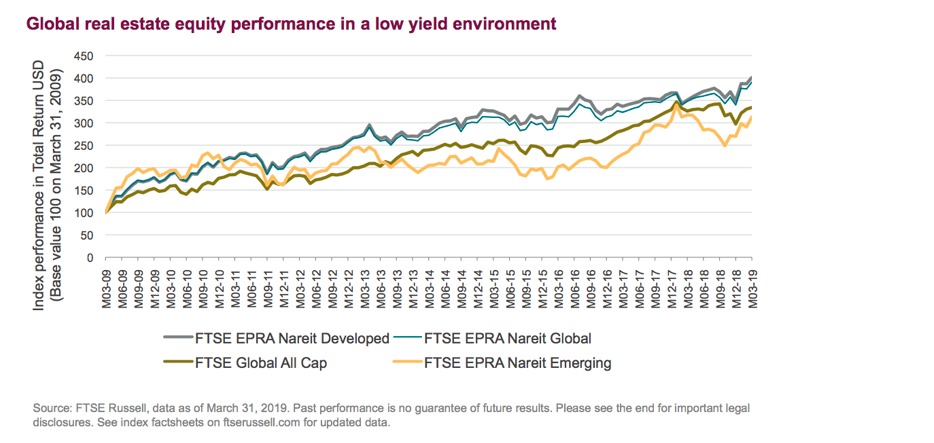 Equities

While this graph demonstrates that global real estate equities outperformed the broader equity market over the past decade, it also shows that emerging markets real estate fell short.

However, if we look only at the past five years we can observe that emerging markets real estate equities have been a stronger relative performer over more recent time periods.

As shown below, the FTSE EPRA Nareit Emerging Index outpaced both developed real estate equities and the broader global equity market for the year-to-date, 3-year and 5-year annualized periods.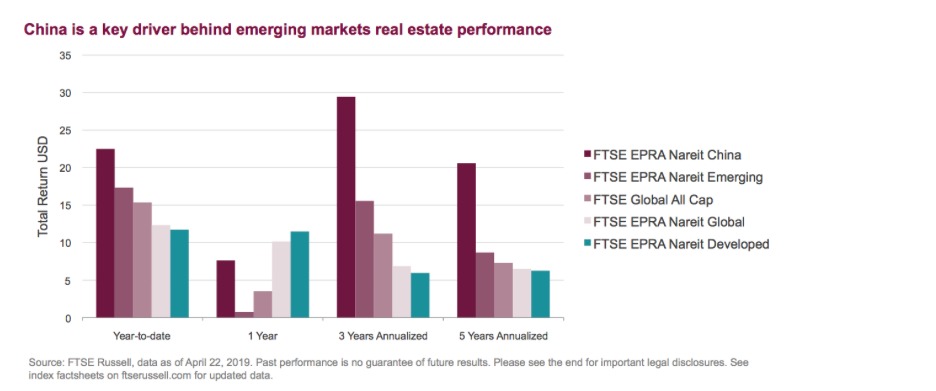 China

The above graph is also telling with respect to what has been driving this recent outperformance. China real estate equities represent over half of the FTSE EPRA Nareit Emerging Index, and this country has delivered particularly strong relative returns recently, fueled by surging sales for China's property developers.

Given China is such a large portion of the index, it's important to note that the FTSE EPRA Nareit indexes will be impacted by our upcoming inclusion of China A-Shares in all indexes derived from our FTSE Global Equity Index Series.
As shown below, our FTSE EPRA Nareit Global Index is constructed as a subset of the FTSE Global Equity indexes, so changes from the broader index family trickle down to FTSE EPRA Nareit Emerging Index.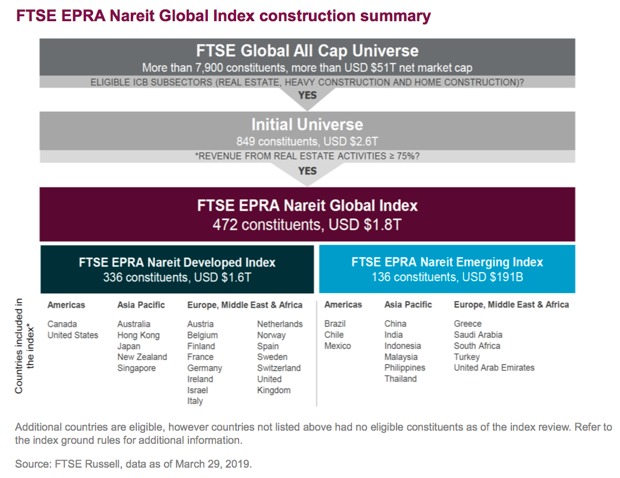 Takeaway

This index is also affected by our March 2018 decision to upgrade Saudi Arabia to Secondary Emerging market status.

The process of inclusion for these securities in our EPRA indexes began in March of this year, while China A shares inclusion is expected to commence this June.
As part of FTSE Russell's ongoing commitment to keeping investors informed on index changes, we've put together an FAQ for Saudi Arabia inclusion and an FAQ and implementation plan for China A shares inclusion.
This article was originally published on the FTSE Russell blog on May 6.
Photo Credit: Boris Kasimov via Flickr Creative Commons
© 2019 London Stock Exchange Group plc and its applicable group undertakings (the "LSE Group").
All information is provided for information purposes only. All information and data contained in this publication is obtained by the LSE Group, from sources believed by it to be accurate and reliable. Because of the possibility of human and mechanical error as well as other factors, however, such information and data is provided "as is" without warranty of any kind. No member of the LSE Group nor their respective directors, officers, employees, partners or licensors make any claim, prediction, warranty or representation whatsoever, expressly or impliedly, either as to the accuracy, timeliness, completeness, merchantability of any information or of results to be obtained from the use of FTSE Russell indexes or research or the fitness or suitability of the FTSE Russell indexes or research for any particular purpose to which they might be put. Any representation of historical data accessible through FTSE Russell indexes or research is provided for information purposes only and is not a reliable indicator of future performance. No member of the LSE Group nor their respective directors, officers, employees, partners or licensors provide investment advice and nothing contained in this document or accessible through FTSE Russell Indexes, including statistical data and industry reports, should be taken as constituting financial or investment advice or a financial promotion.
Past performance is no guarantee of future results. Charts and graphs are provided for illustrative purposes only. Index returns shown may not represent the results of the actual trading of investable assets. Certain returns shown may reflect back-tested performance. All performance presented prior to the index inception date is back-tested performance. Back-tested performance is not actual performance, but is hypothetical. The back-test calculations are based on the same methodology that was in effect when the index was officially launched. However, back- tested data may reflect the application of the index methodology with the benefit of hindsight, and the historic calculations of an index may change from month to month based on revisions to the underlying economic data used in the calculation of the index.
Certain of the information contained in this article is based upon forward-looking statements, information and opinions, including descriptions of anticipated market changes and expectations of future activity. These are based upon a number of assumptions concerning future conditions that ultimately may prove to be inaccurate. Such forward-looking assessments are subject to risks and uncertainties and may be affected by various factors that may cause actual results to differ materially. The author and its employer believe that such statements, information, and opinions are based upon reasonable estimates and assumptions. However, forward-looking statements, information and opinions are inherently uncertain and actual events or results may differ materially from those reflected in the forward-looking statements. Therefore, undue reliance should not be placed on such forward-looking statements, information and opinions. No member of the LSE Group nor their licensors assume any duty to and do not undertake to update forward-looking assessments.