One of the best-performing sectors in the US stock market these days are bank stocks.
They've certainly have come a long way from the dark days of the 2008 financial crisis and the lean years of cost-cutting and tighter regulations that immediately followed.
The KBW Bank Index, which tracks major money center and regional lenders, is up 18.51% over the last year through January 3.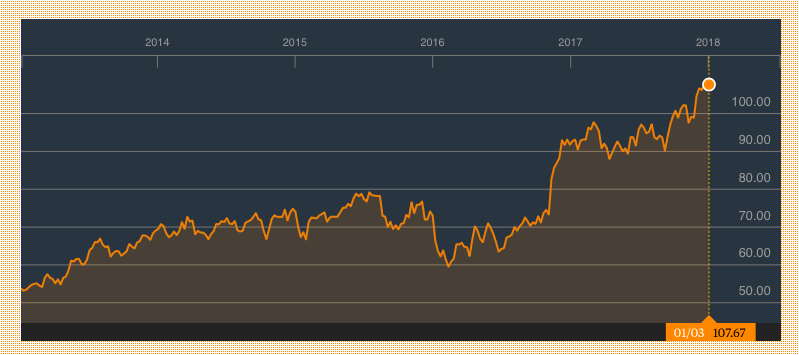 Tailwinds
Behind the rally in bank shares are a confluence of positive trends.
In my view, perhaps the biggest is that the US Federal Reserve is tightening monetary policy after years of historically low interest rates.
The Fed raised rates at its last meeting in mid-December and is widely expected to do so three times more in 2018, barring any negative economic surprises.

Loan Margins
Rising interest rates are generally welcome by banks, since they can charge more interest on home loans and credit card transactions.

The Fed's monetary shift is already translating into more robust bank earnings.
US banks' earnings per share growth shot up during 2017 and is expected to remain at double digit levels this year, according to a recent article by the Financial Times.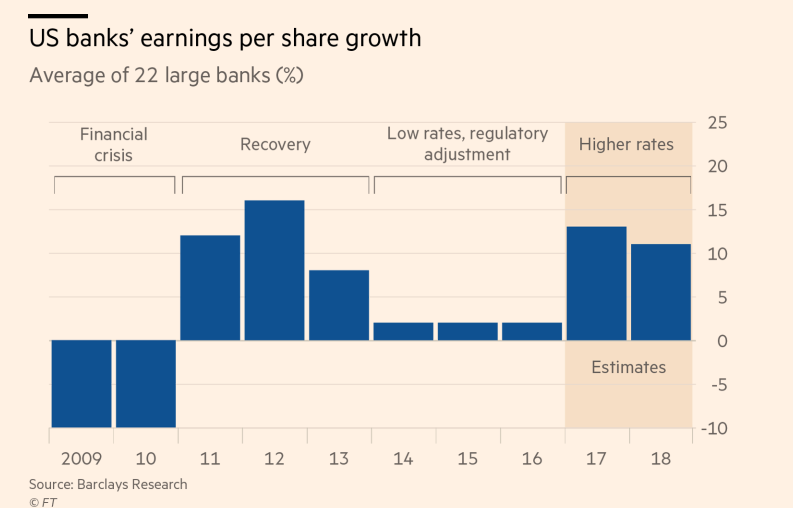 Tax Cuts
Banks are also expected to get a boost from the lower corporate rates in the tax reform legislation President Trump signed into law late last year.
Bankers are also counting on Trump to roll back the more onerous and expensive regulations in the Dodd-Frank bank regulations passed in the wake of the financial crisis.


Takeaway
Bank stocks have had a good ride, but whether there are more gains to be had is uncertain in my opinion.
Valuations are rich, what with the KBW banks index trading at about 1.5 times book value, the highest for more than a decade, according to analysts interviewed by the Financial Times.
Photo Credit: tsaiproject via Flickr Creative Commons