You know a stock market is on a roll when it sets a record high…for, well, record highs.
On Dec. 15, the Dow Jones Industrial Average hit its 69th record closing high of the year, according to an analysis the Bespoke Investment Group.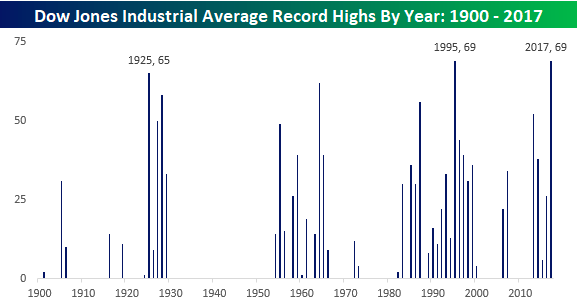 Smoking Hot
That tied the tally in 1995, and the Dow soon blew by that mark by hitting another record high on Dec. 18, when it closed at 24,792.
With the US Congress nearing a deal on tax cuts, the US stock market is finishing 2017 in rip-roaring style.
The Dow Jones Industrial Average and S&P 500 Index are up 25% and 20%, respectively, as of Dec. 18.

2018 Outlook
There's some reason to think the market momentum might spill over into 2018.
As Bespoke points out:
"In the last 117 years, there have only been two other years (1925 and 1995) where the index saw more than 60 record highs in a given year.  

If you're a bull, you have to like the fact that even though those years saw big gains, the year after was also positive.  In 1926, the DJIA was essentially flat (+0.35%), but in 1996 the Dow rallied another 26%."
Valuation Worries
That said, valuations are at inflated levels by one historical measure, according to an analysis by Goldman Sachs.
A sustained rally spanning across stocks and bonds has boosted a measure of average valuation to its highest level since 1900.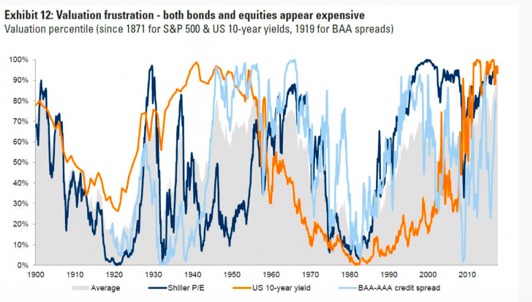 Takeaway
Of course, investors should always remember that past performance is no guarantee of future success.
Someday this market will cool off and may even head into reverse.

Yet, for the moment at least, the current bull market is one for the record books in more ways than one.
Photo Credit: Tatiana T via Flickr Creative Commons