It's been an explosive year for the US stock market, what with the S&P 500 Index and Dow Jones Industrial Average up 16.4% and 19%, respectively, as of Nov. 24.
Though there are still another 5 weeks of trading left in 2017, it's not too early to pull out the crystal ball.
Bloomberg recently surveyed Wall Street analysts that have published their 2018 stock market forecasts and the market oracles are exceedingly bullish.
Raging Bull
BMO Chief Investment Strategist Brian Belski predicts the S&P 500 will end next at 2,950. If so, that would be 14 percent higher than the close on Nov. 20.
And that's assuming Congress doesn't manage to push through a tax cutting package.

If it does, Belski sees US stocks in 2018 delivering a 20% return.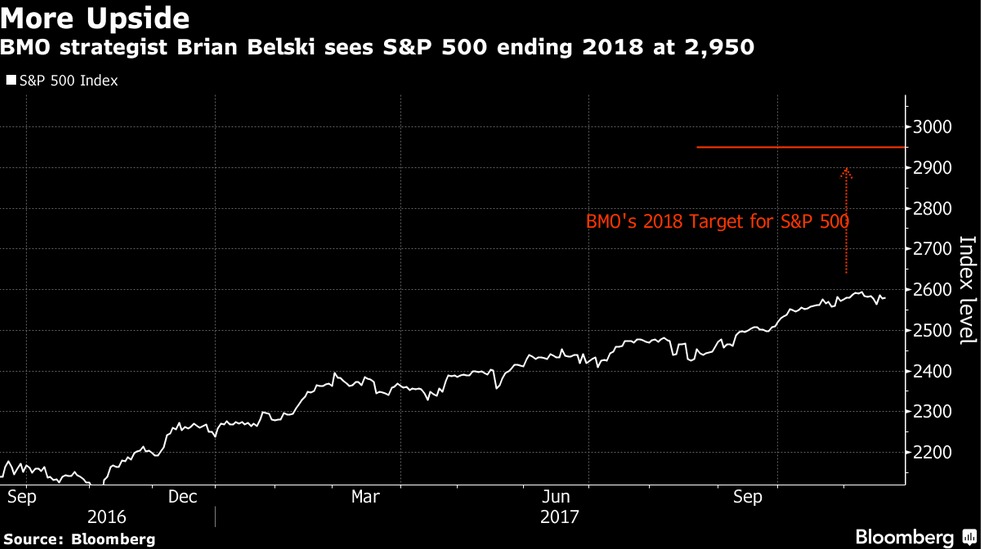 Sunny Optimists
Other analysts are also upbeat about 2018.
Deutsche Bank AG's Binky Chadha is forecasting 2,850 for the S&P 500. Chris Harvey at Wells Fargo, meanwhile, sees returns in the 6% to 7% range.
Such optimism isn't without merit. US corporate earnings remain robust and the overall economy is expanding in the 3%-plus range.
Lopsided Rally
Yet, while the US market has been on a rip-roaring run, the gains have been heavily dependent on one sector: tech.
As Bespoke points out:
"So far in 2017, the five largest companies — all tech related names — have added close to a trillion in market cap. The remaining 495 stocks in the S&P 500 have added roughly 2 trillion.  This means the five largest stocks have accounted for a third of the 2017 gains in market cap for the entire S&P 500."
In terms of weightings, tech represents about 24% of the entire S&P 500 Index.
Takeaway
The US bull market that started in March of 2009 has good momentum heading into 2018.
In my opinion, as long as earnings hold up and valuations don't get out of hand, such optimism isn't farfetched.
Investors have plenty to be thankful about this holiday season.
Photo Credit: Sam Valadi via Flickr Creative Commons