This has been a remarkable year for stock market wealth creation.
The Dow Jones Industrial Average is up 18.5% and the S&P 500 Index has advanced 15% on the year through October 27.
Now, take a look at the market capitalizations of the top 40 companies listed on the S&P 500 and compiled by Bespoke Investment Group.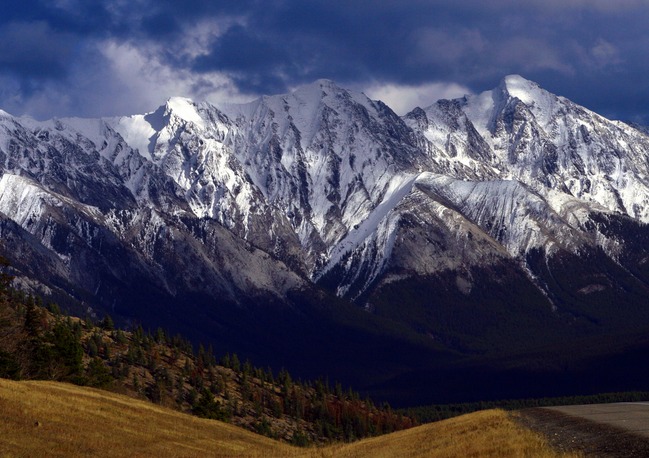 Big Dogs
Apple (APPL) and Alphabet Inc. (GOOGL) have seen their market values explode.
Take Apple: its market capitalization is $825 billion, up nearly 38%, so far this year.
Alphabet shares now trade for a cool $1000 or so.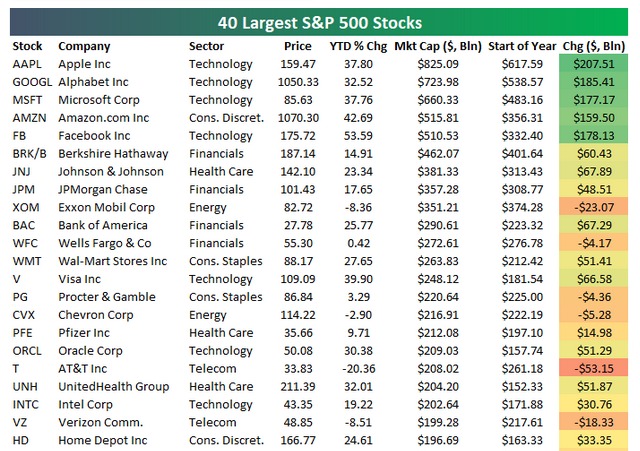 Even companies lower on the list such as Amgen (AMGN) and Altria (MO) have market values of more than $100 billion.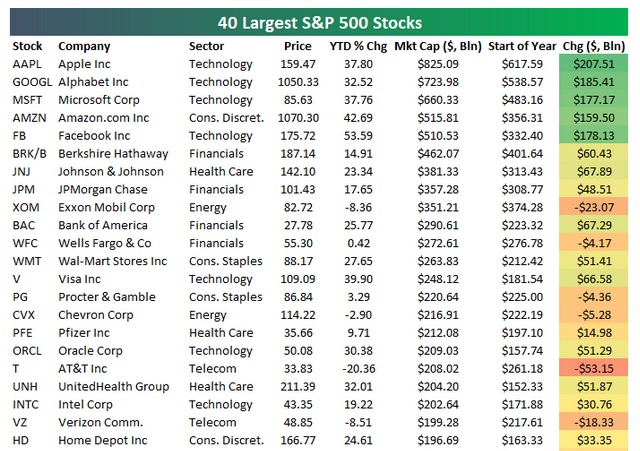 Tech Dominance
The US market has been on a rip-roaring run, but the gains have been heavily dependent on one sector: tech.
As Bespoke points out:
"So far in 2017, the five largest companies — all tech related names — have added close to a trillion in market cap. The remaining 495 stocks in the S&P 500 have added roughly 2 trillion.  This means the five largest stocks have accounted for a third of the 2017 gains in market cap for the entire S&P 500."
In terms of weightings, tech represents about 24% of the entire S&P 500 Index.
Takeaway
In my opinion, the stock market rally is getting lopsided and that's potentially dangerous.
Tech is 10% bigger than the second biggest weighted sector (finance) and equal to the smallest six sectors, according to Bespoke.
If you're into technical indicators, it is also notable that the tech sector is trading three standard deviations above its 50-day moving average.
At some point, in my view, the market is going to need to take a breather.
Photo Credit: Nature'sAura – C. McKee via Flickr Creative Commons