The current bull market that started on March 9th, 2009, is one for the record books.
As of February 21, the current stock rally has lasted 2,906 days, according to an analysis by the Bespoke Investment Group.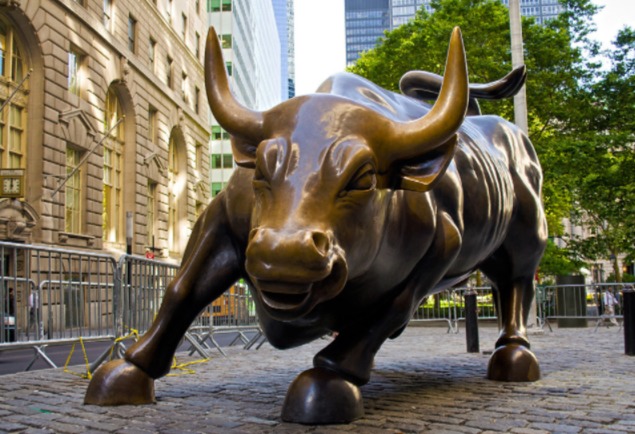 Raging Bull
The current bull market, defined as a 20%-plus rally that was preceded by a 20%-plus decline, is the second longest on record.
The longest ran from December 1987 through March 2000.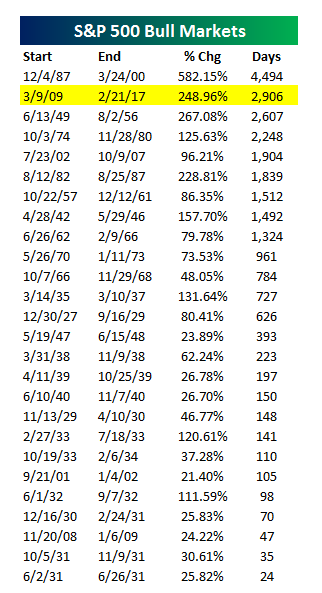 Power Punch
When it comes to returns, the current bull ranks third best with a gain of 248.96%.
Fun fact from Bespoke: "The shortest bull market on record lasted just 24 days — occurring all inside the month of June 1931."

Robust Earnings
In my opinion, this bull may have more room to run.
Corporate America is expected to report positive earnings growth for all of 2016, snapping a multi-year losing streak.
The research firm FactSet sees earnings on pace to rise 4.2% year-on-year.
Market Breadth
Another reason for optimism is the bull market's breadth.
Bespoke recently screened for stocks hitting all-time highs as of February 13.
If found 36 of them, which works out to 7.2% of the S&P 500 index.
It's quite a diverse bunch, ranging from Home Depot (HD), Netflix (NFLX), Costco (COST) to JP Morgan (JPM), Deere (DE), and Dow Chemical (DOW).
Takeaway
In my opinion, we've come a long way from the dark days of 2009.
That said, US stocks, with the Dow Jones Industrial Average now hovering around the 20,000 mark, are anything but cheap.
According to FactSet, the S&P 500 trades at roughly 21 times the past 12 months of earnings. The 10-year average is about 16 times earnings.
Enjoy the bull market ride while it lasts.
Photo Credit: htmvalerio via Flickr Creative Commons