What a glorious time for bank stocks.
The benchmark KBW Bank Index, which tracks 24 banking companies, is up 55% over the past year as of January 25.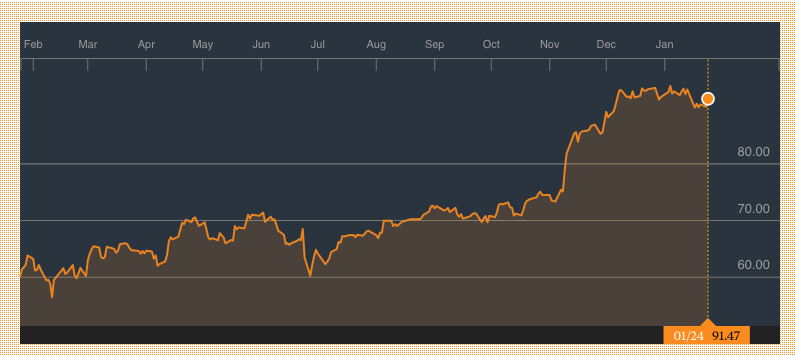 Fed Policy
Financial stocks started to take off last summer as it became clear the Federal Reserve was on track to move interest rates higher from near-zero lows.
Higher rates means improving profit margins on loans.
Then came the surprise election win by Donald Trump, who campaigned on easing banking regulation, especially the Dodd-Frank reforms imposed after the financial crisis.
In December, the Fed raised its key interest rate by 0.25%. And Fed Chairman Janet Yellen recently signaled that more hikes are on the way.
"It is fair to say the economy is near maximum employment and inflation is moving toward our goal," Yellen said in a speech in San Francisco last month.
Caveats
Bank earnings have been robust.
JPMorgan Chase (JPM), Bank of America (BAC) and Citigroup (C) all reported solid fourth quarter numbers.
So what's not to like?
For one thing, as influential banking analyst Dick Bove told CNBC, the Dodd-Frank law probably won't be repealed or modified in a big way.
Trump is a populist leader and I think most American's aren't interested in helping out big money center banks.
Secondly, the Fed likely will move slowly on interest rate hikes. So, in my opinion, current bank valuations should be viewed with caution.
Takeaway
Bank stocks certainly have had a great run and earnings look robust.
That said, in my view, investors are probably wise to judge bank stocks on fundamentals and not bet on an unwinding of bank regulations.

Photo Credit: Broo_am (Andy B) via Flickr Creative Commons