Call it the Trump thump.
While the overall market has rallied smartly following the election of Donald Trump, tech stocks have stumbled.
The so-called bellwether FANG stocks–Facebook (FB), Amazon (AMZN), Netflix (NFLX), and Google (GOOGL)–have taken a beating since election day.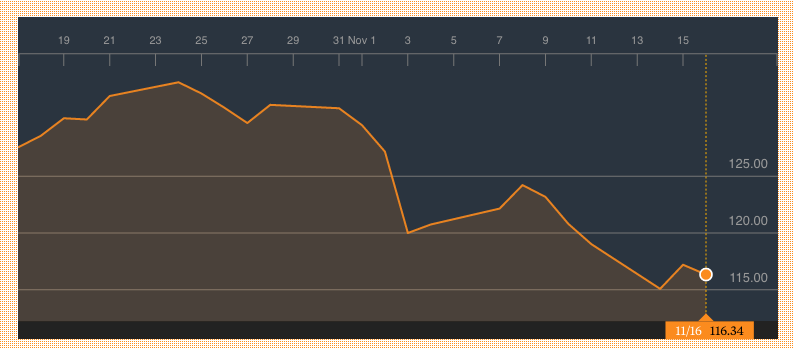 Market Pain
The market swoon has been widespread in the tech world.
The tech-laden Nasdaq Composite Index, up 5.7% year-to-date as of November 15, is underperforming the broader market.
The S&P 500 Index has advanced 6.5% over the same period.
On top of that, the volume of bearish tech stock options has surged, according to the Wall Street Journal.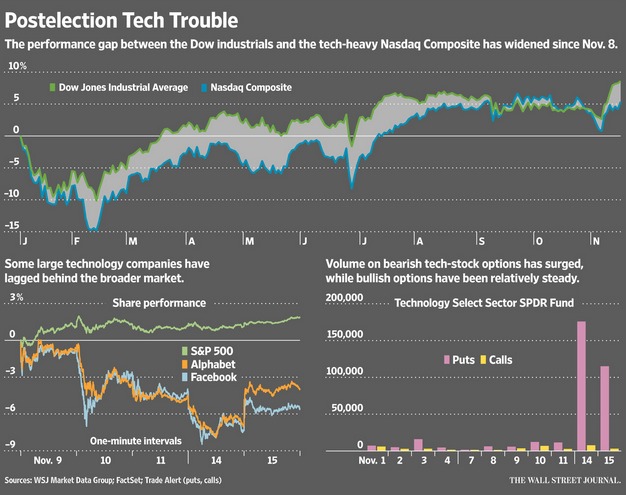 Visa Headaches
There are two competing theories about why tech stocks have taken a hit.
First, the incoming Trump administration is expected to take a tough stance on trade and immigration.
The tech industry needs visas to import software programmers, engineers and other skilled foreign workers from abroad.
If Washington clamps down on H-1B visas, that's bad news for tech companies, in my opinion.
Valuations
Then, there are the relatively rich valuations of tech stocks that were a cause for investor concern even before Trump's upset victory.
As of November 8, the 12-month trailing price/earnings ratio for the S&P 500 tech sector was 20, compared with 18 for the S&P 500.
Takeaway
So far, in my opinion, the Trump era hasn't been kind to tech stocks.
The prospect of tighter immigration policies could be a big negative for the industry even as tech stocks are sporting high valuations.
 
Photo Credit: Claudio Toledo via Flickr Creative Commons