Remember the financial crisis of 2008, when global banks teetered left and right? It seems so long ago.
Well, maybe not. We may be on the verge of a nasty flashback, given the worries about the stability of Deutsche Bank (DB).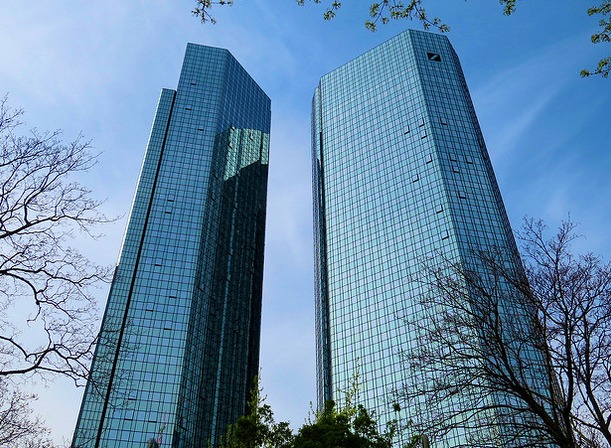 Its stock is down more than 50% this year as of September 26 and is trading at levels not seen since the mid-1980s.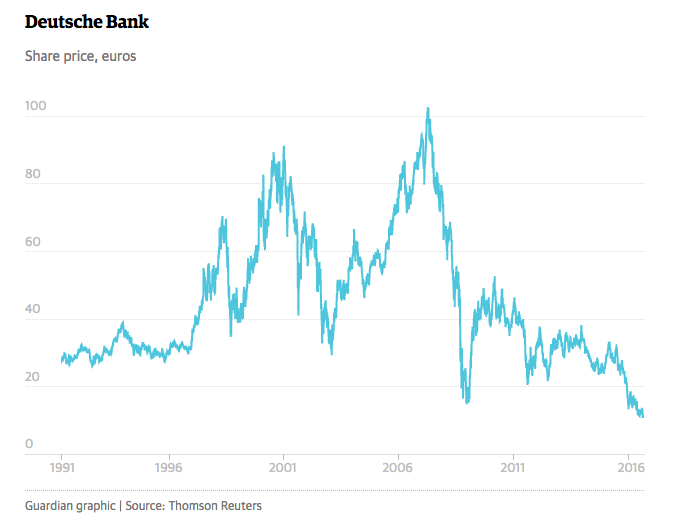 Humbling
Its market cap has contracted to roughly $16 billion.
That's on par with a middling-size regional U.S. lender such as like Fifth Third Bancorp (FITB).
The value of its debt securities are under pressure, too.
Last year, the German bank posted a loss after it took 5.2 billion euros, or about $5.8 billion, in charges related to legal costs for past wrongdoing.
Its US subsidiary has received a failing grade from the Federal Reserve in stress tests of its financial stability.
Big Fish
Deutsche Bank is one of the world's largest banks, a dominant player in Europe's financial system and a huge employer and lender in Germany.
Unfortunately, its capital resources look shaky following news the US Justice Department is seeking a $14 billion settlement to end a civil suit tied to risky mortgage-backed securities the German bank sold before the financial crisis.
Bailout Talk
Deutsche Bank will probably end up paying less than that. But nobody is sure how much or whether the bank has the capital resources to cover the losses.
Reports that German Chancellor Angela Merkel won't consider government help for Deutsche Bank led to a steep sell off in the bank's shares on September 26.
For its part, the bank says it isn't looking for government help.
So it's unclear just yet how and when Deutsche will raise capital to see it through some tough times.
Takeaway
Deutsche is probably way too big to fail, but investors are clearly nervous about how this will all end.
Fasten your seat belt if you own European banks in your portfolio or have a big exposure to the German economy.
I think this will be a major story in coming months and could have a global market impact.  
Photo Credit: Kiefer via Flickr Creative Commons