Energy stocks have enjoyed a nice rally this year as oil prices bounced back from historic lows in February.
West Texas Intermediate (WTI) crude oil is currently trading in the $47 per barrel range.  
True, that's a long way from the $100-plus per barrel heights of mid-2014.
Then again, the price WTI crude touched below $30 per barrel in the early weeks of 2016.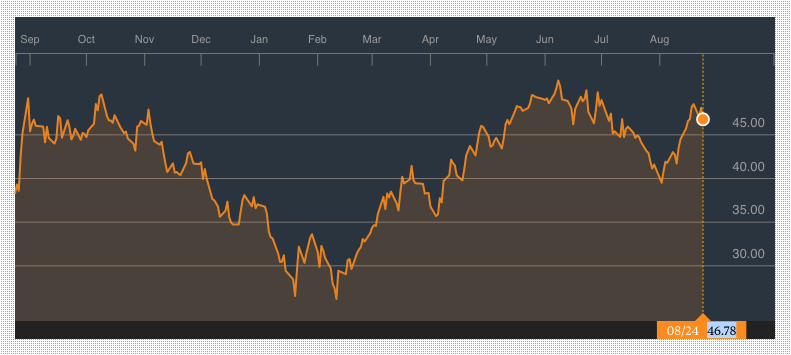 Oil Glut
Yet just when the oil bulls thought they were hitting their stride, word came this week of a surprising buildup in inventories, courtesy of the latest Department of Energy's (DoE) weekly inventory report.
The market consensus called for a decline in stockpiles by 445,000 barrels. Instead, they ballooned by 2.5 million barrels.
That means, as Bespoke Investment Group points out, that the current total inventories of 189 million barrels are 53% above their historical average for this time of year if you look at data winding back to 1983.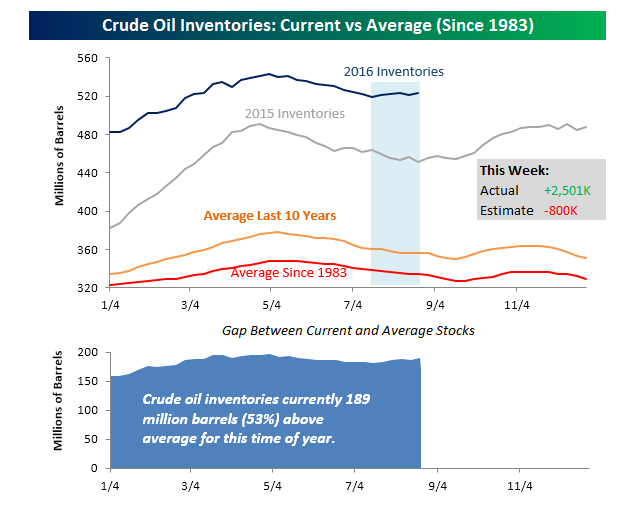 Supply Dynamics
Energy stocks have rallied, in part, this year on the assumption that industry's supply-and-demand balance was gradually improving.
The Energy Select Sector SPDR Fund (XLE) is up nearly 18% on the year through August 24.
Yet that may no longer be a safe bet.
Oil Rut?
Goldman Sachs (GS) sees oil stuck in a trading range of between $45 and $50 a barrel for the next year.
It expects politically unstable oil producing nations such as Nigeria, Iraq and Libya ramping up output faster than expected.
Oil majors such as BP Plc (BP) and Royal Dutch Shell (RYDAF) are more optimistic.
They see supply and demand coming into closer alignment later this year and oil rising to $60 a barrel mark in early 2017.
Takeaway
After several tough years, energy stocks have staged a smart recovery.
Yet, the gains from here on in may be glacial, in my opinion.
Investors need to keep a gimlet eye on supplies.
Until they get in better sync with demand, a return to $100-plus per barrel oil is probably a long way off.
Photo Credit: Jose Luis Agapito via Flickr Creative Commons