The National Collegiate Athletic Association (NCAA) men's basketball tournament is underway, culminating in the national championship match-up in Indianapolis on April 6.
March Madness has become an American ritual over the years with office pools around the country betting on the outcomes of the  single-elimination matches.
College hoops fans also spend big on parties and merchandise.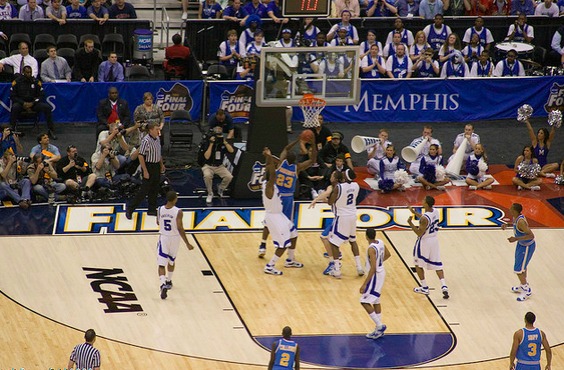 Slam Dunk
For investors, March Madness economics are worth a serious look.
For one thing, broadcast right fees have really skyrocketed over the years.

Media Plays
The current holders of the tournament's broadcasting rights are CBS Corporation (CBS) and Time Warner (TWX). Both are in the early stages of a $10.8 billion, 14-year contract that began in 2011.
These companies are spreading the wealth around. Each year, the games are broadcast on four networks: CBS, TBS, TNT and TruTV.
So far it has been a good investment for both companies based on ratings and ad revenue the networks have raked in, according to Zacks Investment Research.
In 2014, some 28 million viewers tuned in for final four match-ups.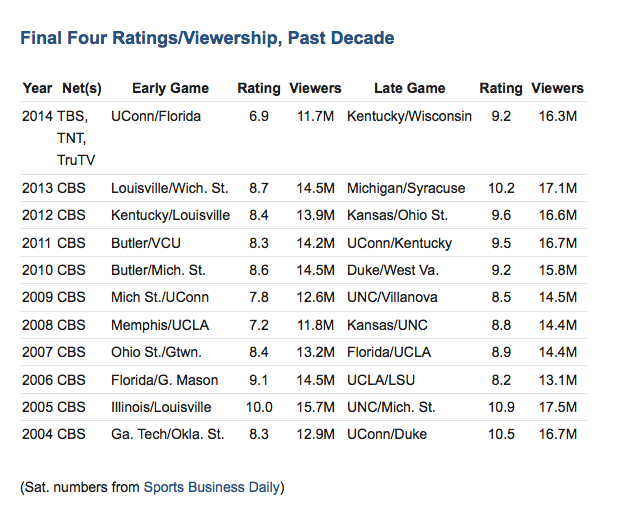 Monster Ratings
Though far smaller than the draw for NFL games in football-crazed America, those are pretty robust tv ratings.
In fact, last year's final four contest between Kentucky and Wisconsin was the most-viewed, non-football sporting event in cable industry history.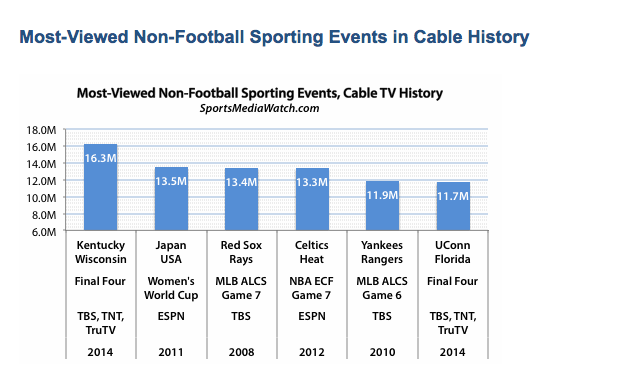 Basketball Fund
The tournament is also a revenue driver for collegiate athletes thanks to the basketball fund program started in 1990.
The program divvies up tournament-related revenue among schools and underwrites academic programs and financial assistance for student athletes.
Go here for a great explainer on the fund.
Fast Food
And don't forget the culinary angle to all of this.
Fast Food players such as Domino's (DPZ), Pizza Hut, which is owned by KFC and Taco Bell parent Yum! Brands (YUM), and Papa John's (PZZA) all have March Madness related promotions and discount programs going.
If history is any judge, they should get a revenue bump if the tournament has some great story lines and match-ups that keep fans glued to their sets.
All three stocks have outperformed the S&P 500 Index so far this year.
Takeaway
This isn't the Super Bowl, but the NCAA basketball tournament has evolved into a multi-billion dollar business.
For broadcasters and fast food companies, this fabled event is putting serious numbers up on the board.
Investors should take notice.
Continued Learning: Super bowl ads: Why they're a Hail Mary pass
Photo Credit: JR via Flickr Creative Commons
The investments discussed are held in client accounts as of March 18, 2015. These investments may or may not be currently held in client accounts. The reader should not assume that any investments identified were or will be profitable or that any investment recommendations or investment decisions we make in the future will be profitable.