The shop-until-you-drop holiday season is underway.
Black Friday actually started on Thanksgiving this year for many retailers.
The four-day run of bargains offered up interesting clues about the mood of U.S. consumers and the economic outlook for 2015.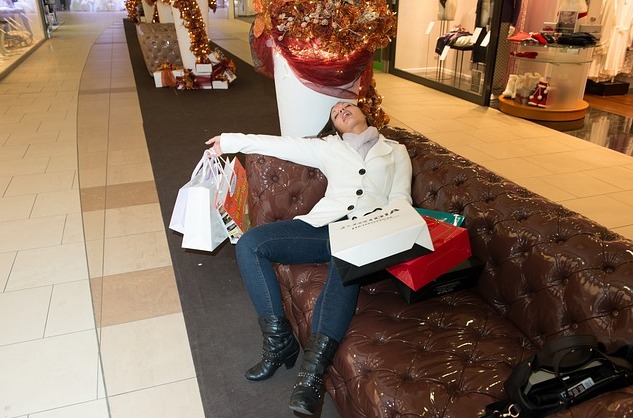 Sluggish start
First, the not-so-good news: the holiday spending season is off to a sluggish start.
Total spending from Thursday through Sunday sank 11% from a year earlier to $50.9 billion, according to the National Retail Federation (NRF) trade group.
That said, the NRF expects overall holiday sales to rise 4%. If so, it would be the best in three years.
Consumer sentiment
There is solid evidence that consumers are loosening their grips on their pocketbooks.
Consumer spending in the last quarter grew at a 2.2 percent annualized rate, exceeding estimates for a 1.8 percent improvement
Meanwhile, consumer sentiment has climbed to the highest level since July 2007, before the recession struck, according to the Thomson Reuters/University of Michigan index.
The plunge in gasoline prices in recent months is having an immediate, positive impact on family budgets. That's likely to continue well into next year, judging by the oil futures markets.
All this explains why investors have stormed back into retail stocks.
Big store
Wal-Mart (WMT), the world's largest retailer, was the the biggest gainer in the blue-chip Dow Jones Average index in November, up 15%.
The stocks of Coca-Cola (KO), Procter & Gamble (PG) and Target (TGT) have also been on a roll.
Airlines advanced 17 percent in November, while broader gauges of consumer shares rose more than 5 percent ahead of the holiday season.
Since mid-year, consumer stocks have staged a big rally while energy stocks have hit the skids.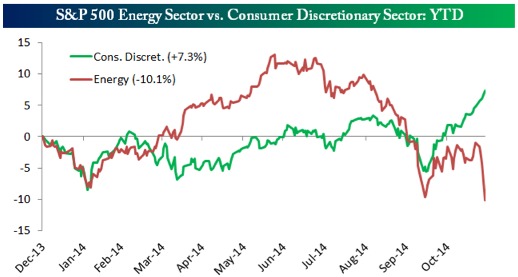 Upshot
What does this mean for your portfolio?
If the consumer spending revival is confirmed by this year's holiday shopping season, it could redound across all manner of consumer discretionary stocks.
It might be time to check with your financial adviser to see if you have the right investments in place to capture the upside of a consumer spending rebound.
Continued learning: 10 reasons why the stock market rally still has legs
DISCLAIMER: The investments discussed are held in client accounts as of November 30, 2014. These investments may or may not be currently held in client accounts. The reader should not assume that any investments identified were or will be profitable or that any investment recommendations or investment decisions we make in the future will be profitable. Past performance is no guarantee of future results.