Technical Analysis doesn't have to be complicated. Just take a look at the chart below, which shows the S&P 500 Index (SPX) over the last two years.
Or even better, show this chart to a six years old and he will tell you: this is moving up. That's all you need to know: US stocks are in an uptrend and we stay with the trend as long as it persists.
The key point is to not to try to predict when the trend ends. It could end tomorrow, in a month, or in a year. Technical traders don't care.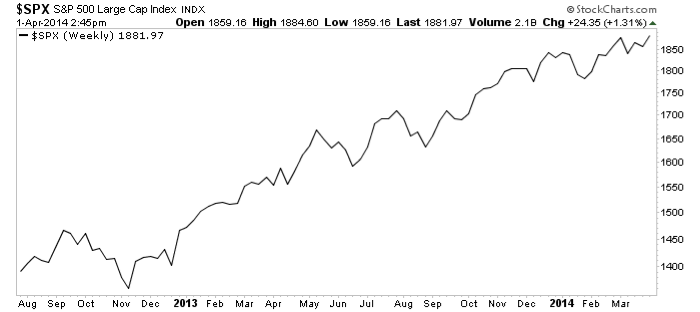 Intermediate term trend identification is important for both our models since the Technical Swing portfolio on the Covestor platform tries to benefit from the short-term swings of the trend and Active Momentum attempts to participate in the entire trend.
In any case, while the general market has been still looking healthy in March, there has been a lot of rotation under the hood. Biotech stocks, which had been strong for over two years, acted weak: (IBB), the iShares Nasdaq Biotech ETF, lost over 15 percent during the last weeks. The fund was a position in the Active Momentum portfolio, which we closed in March.
Other weak names included social media stocks: the market hasn't liked this sector so far this year. Facebook (FB) lost over 10 percent in March, Twitter (TWTR) has been tanking over thirty percent so far this year.
3D printing stock ExOne (XONE), a current short position in the Technical Swing portfolio, is down over 50 percent in 2014. The market has become very selective and trading from both, long and short side, can make sense.
On the other side, new leaders emerged: after underperforming for almost the entire year of 2013, energy stocks showed some signs of life in March.
The Select Sector SPDR Energy Fund (XLE) is the related ETF, which broke out to new highs and is in a very interesting technical position. Intermediate-term momentum is still weak, so the ETF hasn't made it into our Active Momentum portfolio yet.
So overall, the low volatility market environment continued to persist and we continue to try to find opportunities with emerging momentum characteristics or compelling swing patterns.
DISCLAIMER: The investments discussed are held in client accounts as of March 31, 2013. These investments may or may not be currently held in client accounts. The reader should not assume that any investments identified were or will be profitable or that any investment recommendations or investment decisions we make in the future will be profitable. Past performance is no guarantee of future results.