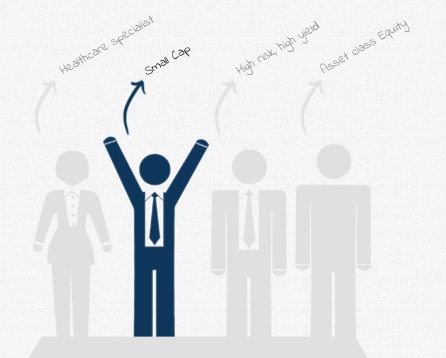 The Investment Management (IM) Team at Covestor has played a key role in helping us build an innovative marketplace of emerging portfolio managers.
The IM Team screens and selects promising up-and-coming portfolio managers, including Registered Investment Advisers (RIAs) and individual traders. We then subject managers to a multi-month vetting process.
Portfolio managers must go through a rigorous, fully transparent trial period that allows the IM Team to monitor every position and transaction before admission to the Covestor online marketplace. There are currently about 140 portfolios on Covestor, with an active pipeline of managers under consideration.
When evaluating managers, the IM Team analyzes past risk-adjusted performance and ensures the portfolio has a solid history of style consistency. We use quantitative analysis to assess managers, and perform deep dives into their investment strategy. This includes due diligence questionnaires, monitoring real-time performance, and understanding their strategy and investment philosophy. The IM Team determines if the manager produced alpha (risk-adjusted returns above a market benchmark), and where it came from.
During the incubation process, we group managers into buckets based on their investing style and risk profile. This allows us to measure the performance of managers employing similar strategies with apples-to-apples comparisons. Therefore, managers are closely scrutinized before getting  a spot on the Covestor roster. Overall, the IM Team is looking for managers that have a reasonable chance of outperforming their benchmark and peer group.
Our evaluation process using daily holdings and trade data allows us to see what managers are doing, how they do it, and how they're managing risk in the real world – before they are given an opportunity to have their trades replicated in Covestor clients' own accounts.
In summary, our clients can be confident that every manager on Covestor has passed a quality and style purity screening process. Furthermore, portfolios aren't judged in isolation — we also consider how they potentially fit within our overall platform to best serve client needs and provide breadth of choice.
We also continue to closely monitor portfolio managers after they're on the platform overseeing client assets. Covestor monitors trading so that managers aren't veering away from their stated investment strategy (style drift), over-concentrating in certain stocks, or otherwise taking on too much risk.  There are safeguards against investing in illiquid securities, excessive trading and using too much leverage. We want to make sure that manager strategies can be efficiently replicated in client accounts. High portfolio volatility and drawdowns are among the red flags that can cause managers to go on our watchlist. Finally, all portfolios are assigned a risk score between 1 and 5 based on strategy and holdings.
We have remediation processes in place, and managers who don't play by the rules can be removed from the Covestor platform. And clients may switch to other strategies at any time without any penalties.
Meanwhile, clients have full transparency of their managers. Investors have access to performance data and metrics, up-to-the-minute holdings and trading records, for example. The Covestor IM Team, as well as clients, have access to daily data on managers.
These are all the reasons why Covestor is a next-generation investment platform that takes into consideration investors' risk tolerance and matches emerging portfolio managers with confident investors.
To learn more about our emerging portfolio managers and Covestor's services, open a trial account.
DISCLAIMER:  The information in this material is not intended to be personalized financial advice and should not be solely relied on for making financial decisions.  Covestor provides limited due diligence to verify portfolio managers' past investment performance, which is not audited or verified by an independent third party.  Past performance is no guarantee of future results.