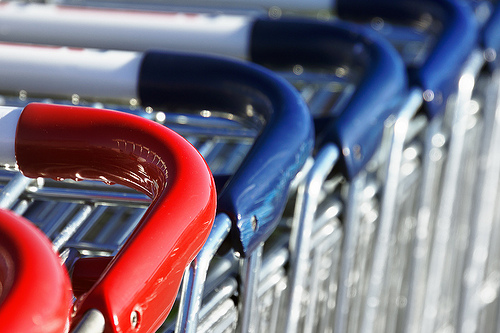 The U.S. retail sector is trailing the overall S&P 500 so far this year and a worse-than-expected retail sales report for January means the trend could continue.
The weakness of retail stocks in early 2014 has been blamed on everything from frigid temperatures, profit taking and stagnating incomes.
SPDR S&P Retail ETF (XRT) is down 8% year to date, compared with a decline of less than 2% for the S&P 500.
Retail sales fell 0.4% last month, more than economists had forecast. Also, the data for December and November were revised lower.
"Consumer spending appears to be on shakier ground than when the year started," said senior economist Eugenio Aleman at Wells Fargo Securities, in a MarketWatch report.
Sterne Agee chief economist Lindsey Piegza commented on Thursday's lackluster retail sales report in a note:
"A weak consumer report suggesting consumers continued to lose momentum at the start of the new year. Of course arctic winter temperatures certainly played a role here, dissuading consumers from going out and shopping but retail spending has been losing momentum since an outsized monthly gain in October suggesting not all of the weakness can be explained away because of unfavorable weather conditions. In the long run positive spending patterns can only be supported by underlying growth in jobs and income. We have seen the quantity of jobs continue to increase – although at a disappointing pace as of late- however, we have not seen quality job creation leading to income growth, as the vast majority of the jobs created have been in part-time or low wage sectors.
Consumers were able to spend through the fourth quarter thanks in part to temporary factors like energy price reprieve and a lingering wealth effect from rising equity markets luring consumers out to spend and draw down their savings.
But going forward, with rising energy prices expected to cost the average consumer an extra $500-$1,000 more this winter season to heat their home and fill up the family car, without income growth, consumption will remain under pressure."
Retail stocks have outperformed the S&P 500 every year since the financial crisis when the market bottomed in 2009. However, the sector's underperformance so far this year is a potential red flag that the economy and consumer are tiring. Investors may want to keep a close eye on retail and consumer discretionary stocks.
Photo Credit: Mimadeo
Disclaimer: The information in this material is not intended to be personalized financial advice and should not be solely relied on for making financial decisions. All investments involve risk and various investment strategies will not always be profitable. Past performance does not guarantee future results.