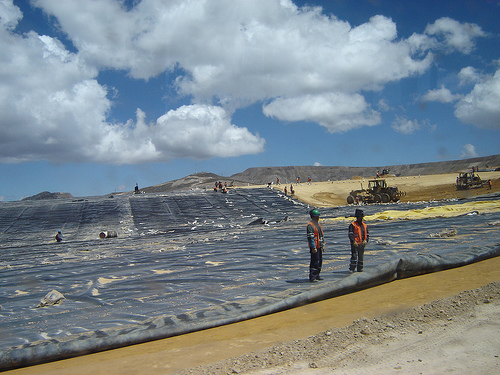 Gold and silver prices were up sharply Tuesday although the beaten-down precious metals remain on track for steep losses in 2013.
One portfolio manager is positioning for a rebound in gold and silver next year, yet is buying miner stocks rather than holding the physical metals.
Newmont Mining Corp.
"I want exposure to gold and silver," said David Levine, who manages the Aspect Large Cap Value portfolio on Covestor, in an interview Tuesday. "But I own miners instead because they can pay a dividend, appear cheap relative to their assets, and potentially offer more volatility to the upside if metals prices turn."
Specifically, Levine owns Newmont Mining Corp. (NEM), one of the world's largest gold producers, and Pan American Silver Corp. (PAAS) in Aspect Large Cap Value portfolio.
Both stocks rallied Tuesday along with their broader sectors as measured by Market Vectors Gold Mines ETF (GDX) and Global X Silver Miners ETF (SIL).
Certainly, it has been a tough year for miner stocks, which have fallen harder than precious metals prices. For example, the gold and silver miner ETFs were down 50% year to date heading into Tuesday's rally. The sector has been hit by falling metal prices and rising operating costs.
Still, Levine thinks the miner sector is offering attractive values after this year's sell-off.
"It just feels like a lot of investors are throwing in the towel on miners now with year-end tax selling," the portfolio manager said. "I think it's a good time to look at gold and silver miners. A lot of investors could be looking at losing positions like miners, taking the loss and moving on. So there could potentially be some selling from weak hands to strong hands."
Looking at gold and silver, Levine thinks prices could be finding support near the metals' production costs.
Yet he's not expecting a dramatic rebound in metal prices from here.
"The danger with gold and silver is they could go sideways for years," Levine notes. "I don't expect it to turn right away. It could take some time. That's why I bought miner stocks with dividends so I at least I can get paid to wait. I also think I bought cheap so I can sit on the positions."
Newmont Mining pays a dividend of more than 3%, while Pan American Silver has a dividend yield of nearly 5%. Also, Levine likes that Pan American Silver is buying back shares.
"I've had a hard time putting money to work and finding bargains after the big rally in U.S. stocks this year," Levine said. "Miner stocks caught my attention after their big decline."
Photo Credit: Participatory Learning
DISCLAIMER:  The investments discussed are held in client accounts as of November 30, 2013.  These investments may or may not be currently held in client accounts.  The reader should not assume that any investments identified were or will be profitable or that any investment recommendations or investment decisions we make in the future will be profitable.  Dividends reflect past performance and there is no guarantee they will continue to be paid.  Past performance is no guarantee of future results.