Utilities stocks are the worst-performing sector of the S&P 500 by a wide margin this year, potentially frustrating investors who bought the sector for dividends and stability.
The chart below shows the relative performance of the nine Sector SPDR ETFs against the S&P 500 so far in 2013. Utilities Select Sector SPDR ETF (XLU) is the laggard.
It's not that the utilities ETF was awful in 2013, it is actually up roughly 14%. However, the S&P 500 index has gained nearly 30%.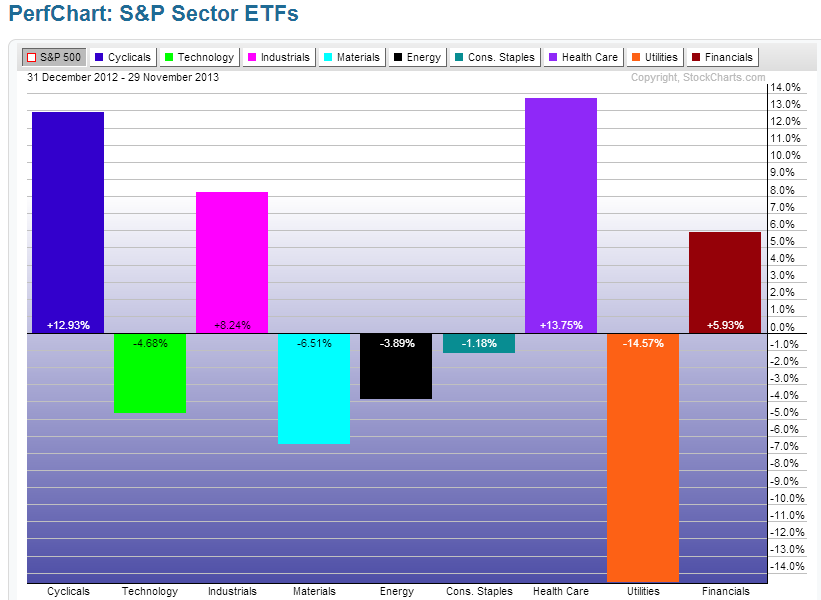 Chart: StockCharts 
Some blame the underperformance of utilities stocks on higher U.S. Treasury yields. Utilities stocks are known for their dividend income and safety. Rising interest rates make utilities less attractive relative to bonds, all else being equal.
Utilities companies "benefit from a declining-interest-rate environment, which can boost firms' profitability because regulated rates of return are not frequently adjusted by regulators," says Morningstar analyst Robert Goldsborough.
"Also, investors have viewed utilities companies almost as a hybrid between bonds and stocks — can't offer the same growth as equities, but nonetheless they are very stable and very appealing because of their dividend yields," he wrote in a recent report on Utilities Select Sector SPDR ETF. "Since interest rates began their secular decline in 2000, utilities have produced nearly double the S&P 500 Index's total return. Now an inflection point looms."
Aside from rising interest rates, utilities stocks may have simply gotten overvalued from investors chasing the sector's dividends and perceived stability.
Citing research from Merrill Lynch, Josh Brown at The Reformed Broker blog earlier this month noted that traditional low-volatility, defensive sectors like utilities were actually the most expensive, overbought stocks.
"[O]ur notions of 'risky' and 'defensive' may need to be flipped upside down as the year draws to a close," Brown wrote. "The market always keeps us guessing."
Of course, the question is whether utilities stocks are attractively valued now versus other sectors after lagging the S&P 500 this year. Utilities Select Sector SPDR ETF has a dividend yield of 3.85%.
The information in this material is not intended to be personalized financial advice and should not be solely relied on for making financial decisions. All investments involve risk, the amount of which may vary significantly. Dividends reflect past performance and there is no guarantee they will continue to be paid. Past performance does not guarantee future results.