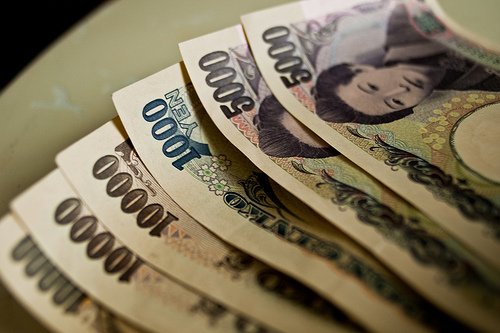 The Nikkei-225 Stock Average is up 50% already this year and one portfolio manager is positioning for further gains as Japan's central bank takes unprecedented steps to boost the economy.
"I think the Bank of Japan is going to pump more liquidity than any other central bank," said Bill DeShurko, who manages the Seasonal ETF Growth portfolio on Covestor. "This will likely hurt the yen and help Japanese stocks."
Seasonal ETF Growth has more than 10% in WisdomTree Japan Hedged Equity Fund (DXJ), and the ETF is the portfolio's fifth-largest security holding.
DXJ invests in Japanese stocks but hedges its currency exposure to the yen. The ETF is designed to avoid the currency headwinds for U.S. investors when the yen weakens against the dollar.
"We want to hedge exposure to the yen and not fight the Bank of Japan," DeShurko said.
The Bank of Japan's governor, Haruhiko Kuroda, has been broadcasting that a fresh round of monetary easing could be in the works, the Financial Times reports.
From a technical perspective, DeShurko said Japanese stock benchmarks are breaking out of the so-called triangle pattern that analysts have been watching for months. His strategy in the Seasonal ETF Growth portfolio combines elements of both technical and fundamental research.
Fundamentally, he admits there isn't much he likes about Japan other than the ultra-loose monetary policies designed to stimulate inflation and help the country's exporters.
Japan has languished for decades due to several negative forces, including a lackluster economy, increased global competition, an aging population and a stronger yen that has hurt its exporters. Japan's efforts to revive its economy are known as "Abenomics" after Prime Minister Shinzo Abe. Despite recent improvement and the Nikkei's strong rally this year, Japan still faces many challenges.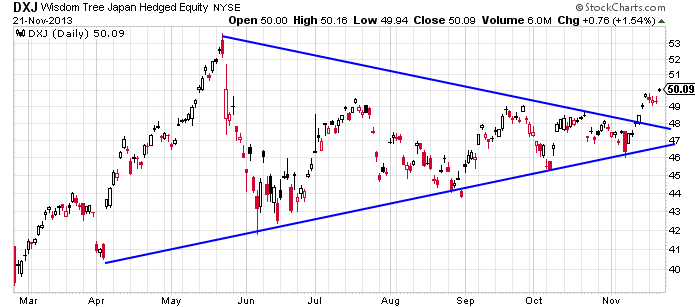 DXJ chart: StockCharts
Photo Credit: hermitsmoores

DISCLAIMER: All opinions included in this material are as of November 21, 2013 and are subject to change. Foreign investments may be volatile and involve additional risks including currency fluctuations, and political and economic uncertainties. The information in this material is not intended to be personalized financial advice and should not be solely relied on for making financial decisions. Past performance is no guarantee of future results.