The latest electoral victory in the Upper House of the Japanese Diet by Prime Minister Shinzo Abe's ruling Liberal Democratic Party gives him a huge legislative advantage when it comes to pursuing his reflationary monetary, fiscal and economic policies known as Abenomics.
The Nikkei 225 Index has enjoyed an explosive rally this year on investor optimism that Abe can finally lift Japan out of its two-decade run of sub par growth, including five recessions.
The Bank of Japan has embarked on a massive expansion of the monetary base with an aggressive bond buying program and the government is in the processes of spending some $100 billion in fresh fiscal spending. Yet now comes the hard part for Abe: He must push through  painful structural reforms that, inconveniently, hit business interests and rural regions that are a huge part of the LDP's electoral base.
That's especially true of agriculture, a heavily government-subsidized sector riddled with poor distribution, a preponderance of older farmers, and inefficient land use. Plenty of observers are skeptical that Abe will be able to overcome less reform-minded LDP members beholden to special interests.
Yet even if Abe manages to keep the current Japanese recovery humming (first quarter GDP advanced 4.1%), the country faces long-term challenges that will weigh on the economy for many years to come.
Japan faces a Himalayan debt burden: It has the rich world's highest ratio of gross public debt to economic output, projected by Japan's Ministry of Finance to hit 224 percent of gross domestic product in 2013.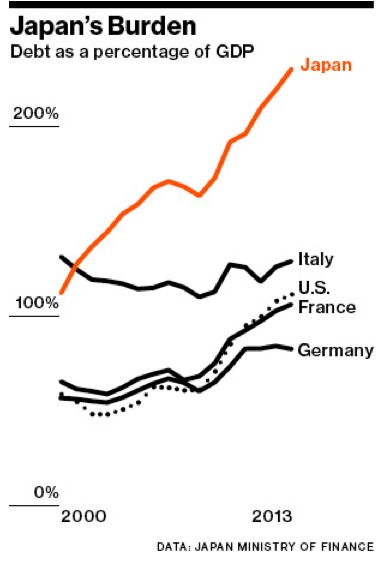 With its fertility rate stuck below the population-replacement level—2.1 births per woman—since the early 1970s and a deep cultural resistance to immigration, Japan's overall population is projected to fall about one-third from the 128 million counted in 2010 to 87 million by 2060. The crucial work-age cohort (15 to 64) will decline 46 percent to 44 million, while the 65-and-over crowd will grow from 23 percent of the population in 2010 to almost 40 percent.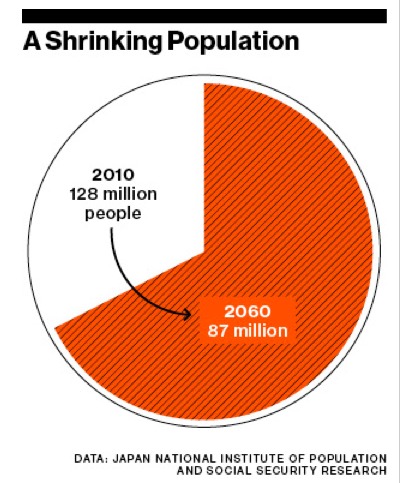 Japan's share of the world economy is projected to fall by more than half, from 7 percent as of 2011 to 3 percent by 2060, according to the Organisation for Economic Co-operation and Development. Abe and many prime ministers to come have their work cut out for them.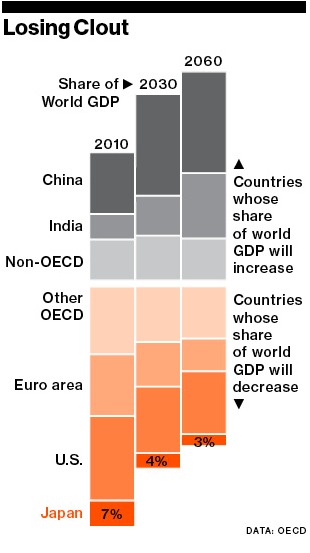 Image: Defense Imagery