The disappointing downward revision in U.S. first quarter GDP is the latest in a string of negative data points around the world in recent weeks. The U.S. economy grew at a mere 1.8% annual pace in the first quarter, according to revised data released by the Commerce Department on Wednesday. That follows the 0.4% figure for the fourth quarter of 2012.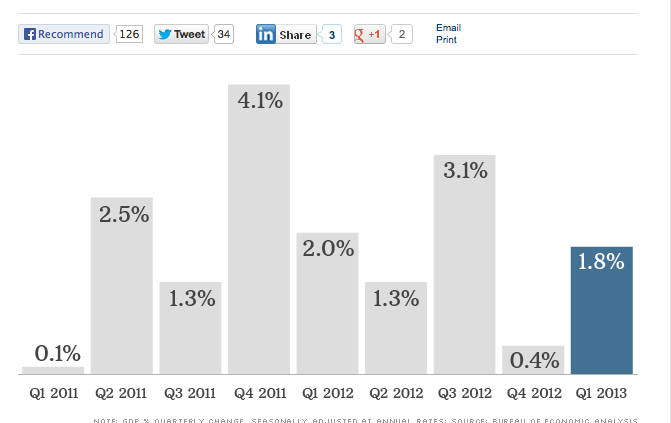 The picture isn't much better outside the U.S., either. Global GDP grew by just 2.1% during the first quarter of 2013 compared with a year earlier, according to the The Economist's calculations, which believes the world economy could be going wobbly in the knees. A year ago, the global expansion clocked in at 3.1%.
What happened? Here are four negative economic trends weighing on the minds of investors.
US Earnings: Corporate earnings are losing steam. Analysts surveyed by Bloomberg see earnings growth at 2.5% in the current quarter–the lowest level in the last 12 months. On top of that, the ratio of upgrades to downgrades, tracked by Moody's Capital Markets Group, has fallen to 0.89 times in the first five months of 2013, the fastest decline since 2009, and from a high of 1.55 times back in mid-2010.
China Stumbles: First-quarter GDP growth of 7.7 percent was well below the 8 percent predicted by a Bloomberg survey of economists and even lower than the 7.8 percent rate for all of last year (which in turn, was China's slowest growth in 13 years). Goldman Sachs (GS), JPMorgan Chase (JPM), and Royal Bank of Scotland (RBS) have pared back their 2013 estimates to 7.8 percent.
Recession in Europe: The Organization for Economic Co-operation and Development recently slashed its forecast for the economy of the 17-country eurozone. The OECD now expects the region to shrink by 0.6 per cent this year, after a 0.5 per cent drop in 2012. The OECD had predicted a 0.1 per cent decline for the eurozone in its report six months ago — and this time last year, it forecast growth of nearly 1 per cent for 2013.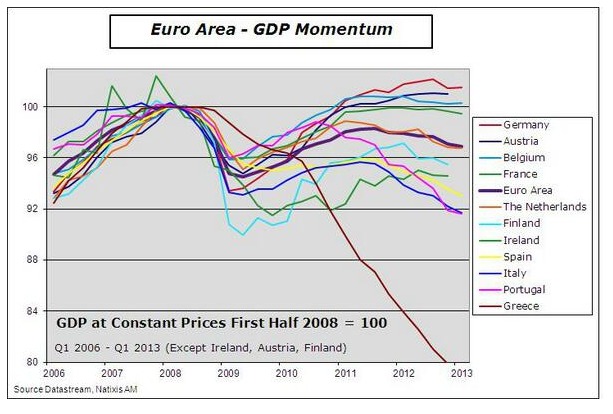 Emerging Market Unrest: Stock markets in the developing world have been getting crushed in recent months, thanks to the slowdown in China and a weaker yen that has boosted the competitiveness of Japanese exports. Adding to investor angst is social unrest in Brazil and Turkey.
Photo Credit: Horia Varlan