This Apple earnings report may be a market mover.
Just ahead of the earnings report scheduled for Thursday night, a key tech stock ETF is threatening to fall through its 200-day moving average for the first time this year.
The Technology Select Sector SPDR (XLK) is one of the broadest and most closely watched tech stock ETFs. To this point, its 200-day average has been on the rise and the XLK has stayed above its average for all of 2012.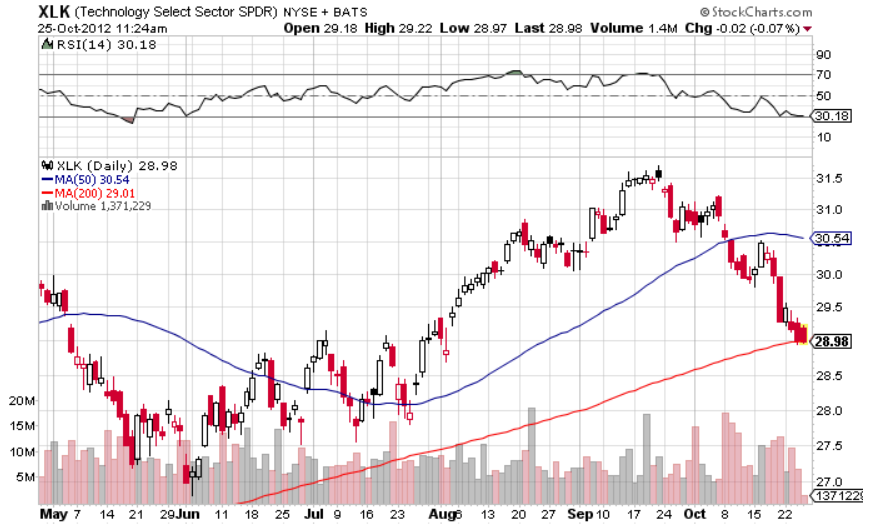 Source: Stockcharts.com
Yet as you can see above, the XLK is now just a few ticks away from possibly falling below its 200-day, which helps to measure the underlying trend for the ETF, and by proxy, the sector. A move below that line, in red, would help to paint a more bearish picture for tech stocks.
Staying above the 200-day may depend largely on Apple's numbers and what is said on the earnings call. Apple is far the largest XLK component, making up more than 20% of the ETF. Also of note, analysts have been revising Apple estimates lower ahead of the report, on fears of iPad sales coming in lower than expectations.
Have analysts dropped their numbers enough?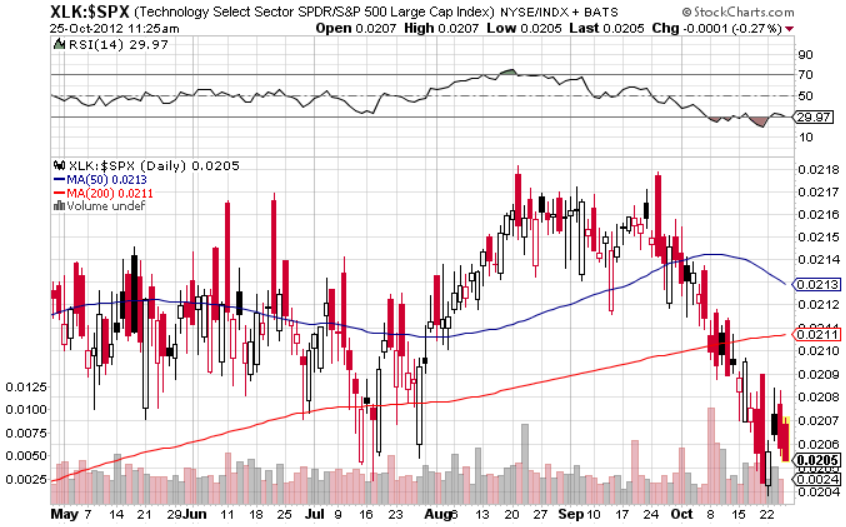 Source: Stockcharts.com
A better-than-expected Apple report may help to stave off, and possibly even reverse a slide for the XLK. The chart above shows its relative performance to the S&P 500. As you can see, the tech ETF has been a laggard since late September.
A worse-than-expected Apple report, though may help bring about a breakdown for the XLK, and quite possibly the tech-heavy Nasdaq Composite, which also is flirting with its 200-day average.
If it happens, the Nasdaq will become the first major U.S. index to do so. More importantly, it may help to bring about a more negative perception of tech stocks.