by Michael Tarsala
The rising price of silver is giving a strong, healthy signal for U.S. stocks.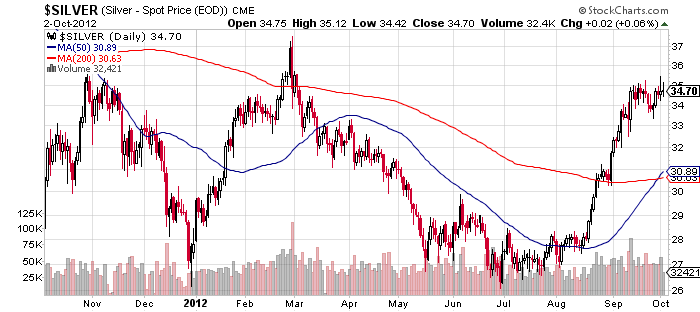 Source: Stockcharts.com
Silver prices are up strongly since mid-August. As you can see from this chart, silver in recent days saw the "golden cross" — the 50-day moving average rising above its 200-day average. Technical analysts see the golden cross as an important indicator for gauging longer-term trends.
It's not so what silver is doing on its own that's providing a stock signal, though: It's how it continues to move relative to gold.
The silver/gold ratio has a long history of moving more or less in line with the S&P 500. As a result, movements of the silver/gold ratio chart can sometimes be telling about stock direction.
Silver tends to rise faster than gold when market participants are optimistic about the economy. The reason is that silver has many industrial and commercial uses. Gold only has a few; it tends to take on its own currency-like status and has a role as an inflation hedge.
As a result, a rising silver/gold ratio mirrors stock price optimism.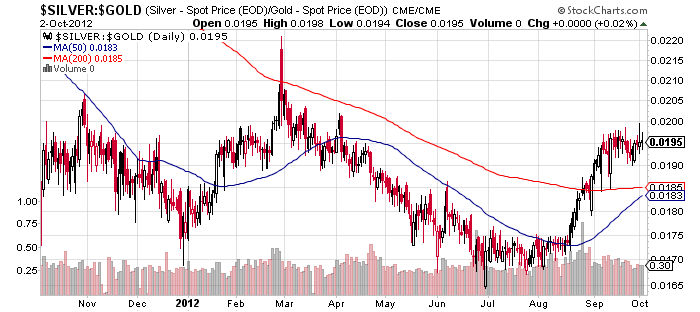 Source: Stockcharts.com
Just like silver,, the silver/gold ratio is close to seeing a "golden cross" of its own. It hasn't happened quite yet, but it could soon follow the price pattern for spot gold.
So watch for the silver-gold "golden cross" as another potentially encouraging sign that the stock market's uptrend remains healthy.