Like much of the storm-battered East Coast, the U.S. stock market has taken a recent hit but remains resilient, says Jeffrey Saut, market strategist at Raymond James.
Saut, in his latest commentary, notes the recent deluge of bad markets news, including a string of disappointing revenue results that may threaten corporate earnings trends into the fourth quarter.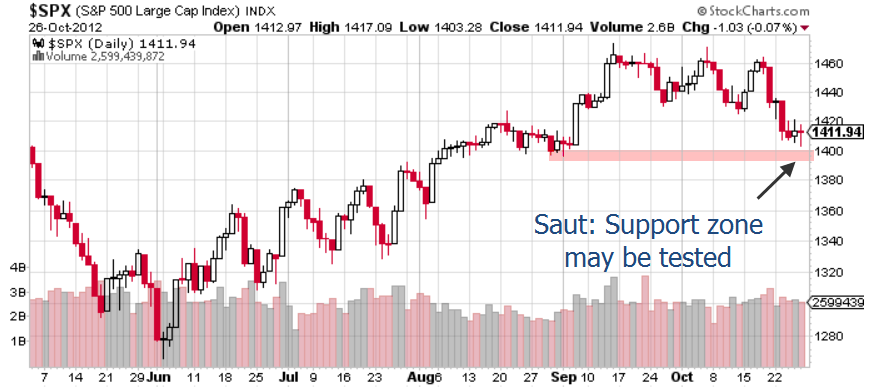 The S&P 500, he says, is attempting to stay above the 1407 level, but may soon fail to do so. Saut sees temporary breakdown potential below the 1390 to 1400 support zone, as seen above.
Yet he also believes that such a move could be a false breakdown, and that downside could be limited based partly on the following:
Saut thinks that stocks are not overbought; to the contrary, they are moderately oversold
The number of S&P 500 stocks above their 50-day averages has receded from extremes
Major U.S. market indices tested and held their 200-day moving averages last week.
Economic reports continue to strengthen: he notes that more than half of the 14 released last week were above expectations.
The U.S. housing market continues to strengthen.
Of particular interest, he says, nominal GDP rose 4.8%, its second-biggest gain since Q3 2008.
Image: Serenitbee